DIY Cake Bath Bomb – Instructions for making birthday cake bath bombs with soap icing and sprinkles. These cool bath bombs make a great birthday present!
These Homemade cake Bath Bombs are super simple to make and make wonderful gifts! These homemade bath bombs are ideal for making as gifts or for your own personal use!
How make DIY Cake Bath bombs
After sharing my last week's post, I immediately began brainstorming new ideas to share with you. I love the idea of making food and dessert-themed bath bombs, so I decided to start a little series. I'll be releasing several new bath bombs themed around desserts over the next few weeks. Today I'm going to show you how to make these DIY Birthday Cake Bath Bombs with soap icing and sprinkles. These are ideal for birthdays, favorite things parties, and spa-themed parties.
Homemade Cupcake Bath Bombs
I enjoy making homemade gifts for birthdays, anniversaries, and pretty much any other holiday imaginable. I'm up for any excuse to get crafty. I was ecstatic to try bath bombs when I discovered them, but they were crumbly. I consulted a friend who is an expert in all things crafty, and she shared her secrets with me! So here I am, bringing you this DIY Cupcake Bath Bomb tutorial. The best thing about this DIY gift idea is that you can mix and match the colors and use them for a variety of occasions (think baby showers!)
Alternative Video: DIY Mooncake Bath Bombs
DIY Cupcake Bath Bombs
If you've never used or made bath bombs before, you might have some questions. I tried to answer them as best I could, but if you have any further questions, please leave them in the comments section below. You can print this tutorial by scrolling down, but before you do, make sure to read through the post for the tips, which are especially important for newbies.
How do you turn bath bombs into cupcakes? This DIY cupcake bath bombs recipe is divided into two sections: the bath bomb base and a fluffy soap icing on top. I'll show you how to make the bath bomb mixture as well as the homemade soap frosting. Let's begin with the bath bombs!
Are Cupcake Bath Bombs Hard To Make?
These bath bombs require a little more effort to make than our basic bath bombs. The frosting can be tricky, and you'll need to work quickly. As a result, I only recommend doing this bath bomb making activity after you've mastered our other bath bomb with soap recipes, such as our Winter Storm Icicle Bath Bomb or our Donut Bath Bomb with Soap Icing Glaze. To decorate these bath bombs, you must be confident in your ability to move forward. But keep in mind that even if they don't look perfect, they will function just as well and be just as much fun in the bath tub!
Making bath bombs, as previously stated, is a process that you will master with practice. Environmental factors can have a significant impact on your mix. You may experience premature fizzing if you work in a humid environment. Or, if you live in a dry climate like me, you might find the mixture a little too dry. If this occurs, simply add an extra teaspoon of coconut oil to the bath bomb mixture. Simply add slowly and thoroughly. It is very easy to overdo it.
What are Bath Bombs?
Bath bombs are blocks (or cupcakes!) that fizzle and dissolve when placed in a bath. Homemade bath bombs can easily be designed to soothe your aching muscles and help you relax, depending on the ingredients you use (lavender for relaxation, for example – like my massage oil uses). Continue reading to learn more about the advantages of bath bombs.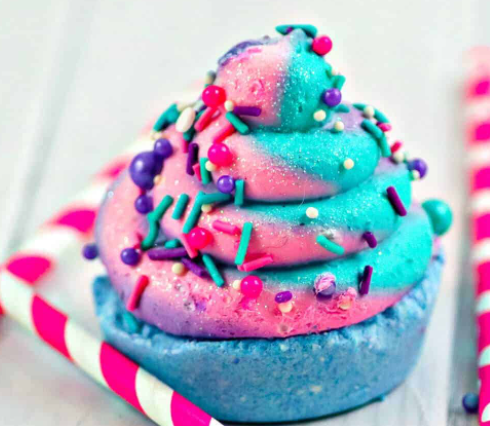 DIY Bath Bombs
There are numerous advantages to making your own bath bombs: you know what ingredients are used, they are completely customized to your preferences, and they are much cheaper to make yourself than to buy. Making DIY bath bombs is therapeutic for me, and giving them as gifts makes me – and the person receiving them – very happy! You can easily make lemon and/or orange scented bath bombs for your mother's birthday or Mother's Day if you know she enjoys citrus scents. If your spouse enjoys bergamot, you can make bath bombs for them as well!
Bath Bomb Ingredients
It is critical to use high-quality ingredients when making bath bombs at home. The products I used are linked in the tutorial/recipe below. The majority of the items are easily accessible on Amazon, where I purchase the majority of my supplies in bulk. You can buy them in smaller quantities, but I've found that buying in larger quantities saves me the most money.
Michael's also has some great deals on certain items, especially when you use a 40% off coupon! You can download the Michael's app to be notified of sales and to receive coupons.
The ingredients you'll be using can clean, deodorize, and repair your skin, leaving you with healthier, younger looking skin. Think pregnancy glow, without having to get pregnant. 😉
Bath Bomb Cupcakes
baking soda
citric acid
Cornstarch
Kaolin clay
coconut oil
polysorbate 80
cupcake scented oil
green glow in the dark colorant
green glow in the dark cosmetic glitter
Helpful tips to create the perfect cupcake bath bomb:
Cupcake bath bombs make lovely gifts. Place your 'cupcakes' in lovely gift boxes, preferably with a clear cover to make them look even more convincing!
Don't be concerned if your bath bomb begins to crumble! This is most likely due to the mixture's lack of moisture. If your mixture is too dry, moisten it with more water or oil before allowing it to dry again.
Use only a small amount of essential oil in your recipe. As a result, the bath bombs may remain too soft and fail to harden properly.
It's also important to keep your homemade cupcake bath bombs in a safe place. Wrap in plastic wrap before storing in a cool, dry place. Avoid exposing your bath bombs to high temperatures, such as a steamy bathroom or direct sunlight. This can have an effect on the consistency, causing it to dry out or, worse, lose its fizz!
Bath bomb ingredients, like food storage, have an expiration date. The average shelf life is six months before it begins to lose its effectiveness.
Witch hazel aids in the binding of essential oils to the bombs while also providing a strong fragrance.
Lavender essential oil in bath bombs creates a calming effect and helps relax the mind and body after a day with active children. A great way to get the kids ready for bed!
Tips to Make Mermaid or Unicorn Bath Bomb Cupcakes
Allow your cupcake bath bombs to dry completely before using them, as they will be fizzier. In general, I recommend allowing them to dry for at least 24 hours, or longer if you live in a humid area or it's cold outside.
Always keep your homemade bath bomb cupcakes in an airtight container until you're ready to use them. Because of the moisture in the air, they can become significantly less fizzy. I like to keep my bath bombs in an airtight container, such as an apothecary jar. This is not only great for keeping the bath bombs ready to use, but it also makes for really cute packaging if you plan to gift them!
Cupcakes with Mermaid Bath Bombs
For each of the primary colors of these bath bombs, stick with purple, pink, blue, and shades in between.
Cupcakes with Unicorn Bath Bombs
For these awesome bath bombs, stick with yellow, green, purple–well, the entire rainbow.
FAQ on DIY Cake Bath Bombs
Can you use cake sprinkles for bath bombs?
Can Food Sprinkles Be Used in Bath Bombs? Totally! You can use food sprinkles to make your bath bombs look as delicious as you want.
Are baking soda bath bombs safe?
Making bath bombs is a relatively simple and risk-free process. Their primary ingredients, baking soda and citric acid, are both edible. Food colors can be used as pigments, and bath bombs typically take about 10 minutes to make (though several hours of drying time is required).
How long does it take for bath bomb frosting to dry?
Begin icing the cupcakes. Experiment with different piping techniques and have fun. As desired, sprinkle a pinch of EcoGlitter on top of the frosting. Once all of the bath bombs are finished, leave them in the mold to dry for at least 3-4 hours or overnight.
How do you make bubbles for bath bombs?
The amount of sprinkles in a bath bomb will not affect your skin's pH balance or cause your skin/bathtub to turn rainbow colors. They only add a few fun pops of color while the bath bomb is fizzing.
Can you use muffin tins for bath bombs?
As you can see, I used a muffin tin to make these homemade bath bombs, which worked out perfectly. Because this is a regular muffin tin, I only filled it halfway with the ingredients listed in the recipe. If you have a mini-muffin tin, fill the cavities all the way to the top with the mixture.