Pumpkin seed oil is a carrier oil that is rich in antioxidants, antimicrobials, and anti-inflammatory compounds.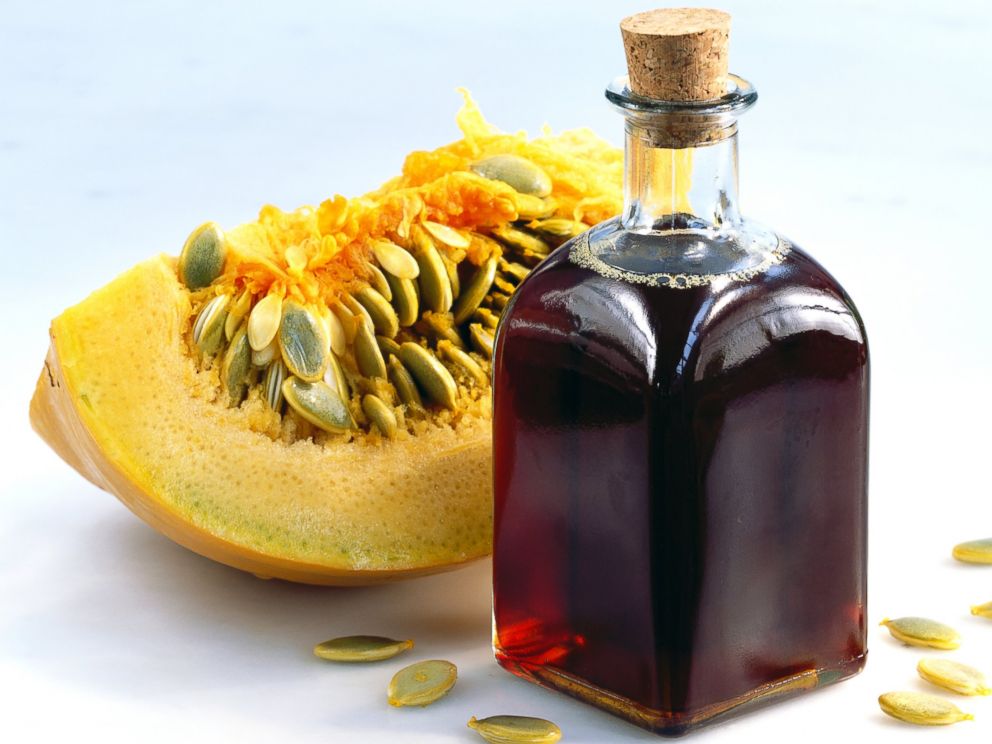 While pumpkin seed oil has numerous health benefits, it has not been extensively researched for the treatment of acne. Here's what the research says, as well as what several dermatologists think about its use in skin care.
What is pumpkin seed oil?
Pumpkin seed oil has a nutty aroma and is dark green or amber in color. It's made from the hulled seeds of pumpkins (Cucurbita pepo), usually through cold pressing.
The oil contains multiple nutrients which provide benefits for health and for skin. These include:
linoleic acid (omega-6 fatty acid)
linolenic acid (omega-3 fatty acid)
tocopherols (vitamin E)
sterols
vitamin C
carotenoids (antioxidants)
zinc
magnesium
potassium
Pumpkin seed oil can be used in cooking as well as topically for skin care. It's also available as a dietary supplement and as a component of skin care products.
What Is Pumpkin Seed Oil Used For?
Pumpkin Seed Oil is derived from pumpkin, a gourd-like fruit with numerous health benefits. Pumpkin seed oil is created by removing the pumpkin seeds from the pumpkin and then pressing them after they have been roasted.
When applied in thin layers, pumpkin seed oil appears dark green, and when applied in thick layers, it appears red, owing to an optical phenomenon known as dichromaticity. Pumpkin seed oil is well-known for being one of the substances with the highest dichromatism scores. Many of the health benefits of pumpkin seed oil are destroyed by heat, so it should never be cooked.
Because of its high concentrations of zinc, vitamin E, vitamin C, antioxidants, and omega 3- and 6- fatty acids, pumpkin seed oil is often referred to as a "superhero ingredient" in skincare products. The benefits of pumpkin seed oil in skincare include treating acne, increasing firmness, anti-aging, moisturizing, soothing properties, redness relief, and oily skin. Pumpkin seed oil hydrates the skin without leaving an oily residue, leaving it looking fresh and clean.
Alternative Video: Pumpkin Seeds Oil Benefits
What are the skin benefits of pumpkin seed oil?
Because pumpkin seed oil (PSO) is high in vitamin E, zinc, omega 3- and 6-fatty acids, and antioxidants, it has numerous benefits for the skin in terms of moisture retention, fighting free radicals, and maintaining a youthful appearance. The high levels of zinc and vitamin E also improve skin tone, aid in wound healing, fight acne, and aid in skin renewal. Finally, many minerals and vitamins have anti-aging properties.
Is pumpkin seed oil the next trend in face and skin care?
Tea tree oil, argan oil, and grapeseed oil, to name a few, have all become popular face and skin oils over the years. Look no further than pumpkin seed oil for your skincare routine if you're looking for an oil that can help balance your skin, particularly your face. It's not only great for acne-prone skin, but it's also packed with naturally occurring ingredients that promote a healthy glow all over.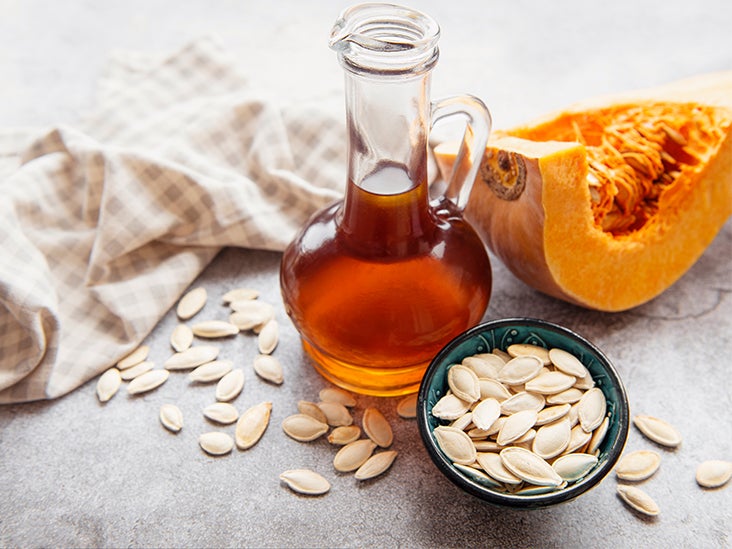 Nutrients in pumpkin seed oil and the benefits for your skin and face
Pumpkin seed oil is a natural beauty product rich in essential fatty acids, antioxidants, and vitamins that aid in the treatment of acne, the improvement of skin tone and renewal, and the relief of redness and irritation. Here are some facts about some of the nutrients in pumpkin seed oil that are beneficial to skin health.
Linoleic acid is one of the most potent acne fighters found in pumpkin seed oil. It moisturizes, soothes redness and irritation, and promotes faster healing of the skin. Linoleic acid is a natural exfoliant that aids in the treatment of hyperpigmentation. People with higher linoleic acid levels are less acne-prone, so increasing these levels by applying linoleic acid to your skin is one way to fight acne.
Along with linoleic acid, omega-3 fatty acids are essential for healthy skin appearance and function, and a topical application of linolenic acid is an excellent way to reap its benefits. Omega-3 fatty acids can also help to reduce the effects of UV-induced photodamage and the signs of skin aging. Ingesting either of these essential fatty acids is just as effective as applying them to the skin, so choose your poison and reap the benefits.
Tocopherol is an antioxidant that aids in the protection of your skin from the sun. Tocopherols absorb UV rays and prevent skin damage caused by free radicals caused by UV exposure when used in skin and face care products. They also help protect against pollution-related free radical damage, have anti-inflammatory properties, and moisturize the skin.
Sterols can help you if you're looking for a nutrient that can protect you from sun damage and aid in cell regeneration. Plant sterols have anti-inflammatory properties that can reduce swelling caused by acne or other skin problems. Sterols are also beneficial for dry skin because they lock in moisture. There have been studies on aloe sterols that show that taking it orally helps with skin elasticity.
Vitamin C is extremely beneficial to your skin in a variety of ways, including reducing redness, combating hyperpigmentation, reducing under-eye wrinkles, healing damaged skin cells, improving hydration, and more. Taking vitamin C as a supplement can improve the texture of your skin, protect you from the sun, and aid in the healing of wounds, among other benefits.
Carotenoids, like many of the nutrients on this list, occur naturally in skin. According to a study done on Lutemax, adding more if your face and skin need a little help can brighten and improve your skin tone, protect you from the sun, and aid in firmness.
Zinc, another acne-fighting superfood, is beneficial for inflammatory acne and scarring. While you may associate oral zinc with immune system support, both topical and oral zinc can help clear acne by removing the bacteria that causes it from the skin.
If you suffer from acne, magnesium is a necessary nutrient for hormone balance. This mineral lowers cortisol levels and improves cellular processes, all of which contribute to the appearance of your skin.
Potassium is most likely associated with bananas, but this mineral can also be found in pumpkin seed oil. While potassium is not absorbed through skin cells, it can add moisture to your skin and face.
Is pumpkin seed oil right for your face?
If the benefits of the nutrients listed above sound like something your skin requires, it's probably time to incorporate pumpkin seed oil into your skincare routine. Pumpkin seed oil benefits skin in a variety of ways, whether consumed or applied topically. If you have acne, dry skin, dull skin, oily skin, or other types of inflammation and scarring, you should definitely incorporate it into your skin renewal regimen.
Can you use pumpkin seed oil to treat acne?
Acne inflammation can be reduced by using pumpkin seed oil as a topical, spot treatment.
One small study found a significant difference in the number and severity of pimples, pustules, and blackheads among people who used pumpkin seed oil on their skin for 1 to 3 months.
Some dermatologists advocate using pumpkin seed oil to treat acne. "Pumpkin seed oil is thought to be a good oil to use on acne-prone skin." "It contains a plethora of unsaturated fatty acids that can soothe inflammation and acne-prone skin," says Dr. Anthony Youn, a plastic surgeon and anti-aging expert.
Others are less enthusiastic, but are confident that pumpkin seed oil will not harm their skin.
"Pumpkin seed oil does not appear to prevent oil or sebum buildup," says board certified dermatologist Erum Ilyas, MD, MBE, FAAD. It also does not appear to be effective at breaking down skin cells for exfoliation. It may, however, help to reduce redness or inflammation caused by acne, making it appear less inflamed.
"Pumpkin seed oil is unlikely to make acne worse, so it's worth a shot if you're frustrated by redness or skin sensitivity caused by either acne or the traditional acne treatments we use."
How can pumpkin seed oil benefit the skin?
The use of pumpkin seed oil for skin conditions such as acne and photoaging has not been thoroughly researched. However, some research suggests that its components may be beneficial.
Supports production of collagen
The vitamin C content of pumpkin seed oil promotes collagen production, which helps skin retain elasticity and firmness.
Reduces free radicals and balances oil in the skin
"The components of pumpkin seed oil translate into a wide range of skin benefits," dermatologist Dr. Peterson Pierre explains.
"Vitamin C and E are powerful antioxidants that help protect the skin from environmental stressors by reducing free radicals." The essential fatty acids penetrate the skin, retaining and increasing moisture levels while leaving no greasy residue. They help to maintain a youthful appearance when combined with antioxidant properties.
"These acids also aid in the balance of oil in the skin, providing moisture where it is lacking and controlling oil where it is abundant." Zinc and selenium are also beneficial in this regard. Additionally, zinc and vitamin C protect and aid in the production of collagen and elastin fibers, which improves tone and tightness," he adds.
Frequently Asked Questions
Will pumpkin seed oil clog pores?
On the comedogenic scale, Pumpkin Seed Oil is a 2. This means there's a chance the oil will clog your pores. The oil may cause breakouts depending on your skin type. Pumpkin seed oil, on the other hand, is still considered a low comedogenic oil.

Does pumpkin seed oil tighten skin?
Increases firmness: The natural nutrients in pumpkin, particularly zinc and vitamin C, aid in firming and tightening. Great for oily skin: The same zinc, along with natural selenium, helps oily skin look healthy and clean.
Is pumpkin seed good for your skin?
Because of their high zinc content, pumpkin seeds are a skin superfood. Zinc protects cell membranes, aids in collagen maintenance, and promotes skin renewal. Pumpkin seeds can be eaten on their own as a snack, mixed into a homemade trail mix, or sprinkled on yogurt or oatmeal.