Bath bombs started out as a trend, and now they're a staple in personal skincare.
What's so magical about these colorful, bubbly little bathtime items?
Well, we're going to break that down for you. They're not just used for a spa-like therapeutic experience – bath bombs actually have some healing properties to them that help your skin.
We're going to go over the very best bath bombs, explain why they're fantastic, and help you find your next pampering, skin-soothing experience by the end of this guide.
Best Bath Bombs – Reviews & Buying guide for 2021
Best Overall: LifeAround2Angels Bath Bomb Gift Set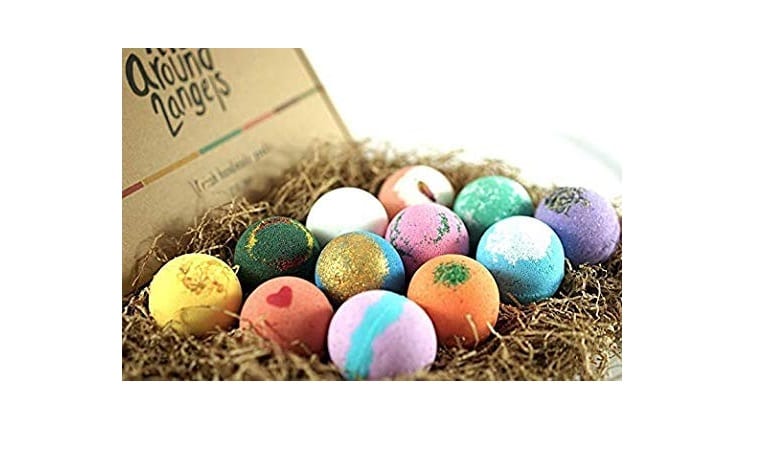 Size: 8" x 6" x 2" package
Quantity: 12
Type: Gift Set; good for all skin types
You might be surprised to find that we didn't put Lush at the top of this list, but to be honest with you, that's just expected and overdone. In fact, after using LifeAround2Angels, we think that bath bombs have peaked.
You get a dozen bath bombs in this kit, which comes packaged in cardboard with paper grass all around. It's both aesthetic and helps cushion the bath bombs from cracking into one another during transit.
Each of these are handcrafted; they're not done in batches, so there's more attention to detail. More than that, each bath bomb is individually wrapped, so you don't have to worry about the abrasive edges rubbing against one another and degrading each bath bomb in the package.
LifeAround2Angels ensures that it will not stain your tub. While this isn't an issue that we see with many bath bomb manufacturers anymore, it's still good to know going into this.
Built with moisturizing emollients and a high level of "sizzle", you'll be in for quite the show when you drop this in warm water.
In your package, you get one of each unique type of bath bomb: Angel, Black Raspberry Vanilla, Fun in the Shower, Fun on the Beach, Kiwi & Strawberry, Lavender, Lemongrass Grass Tea, Love, Mango Papaya, Melon Ball, She & Coconut, and finally Victorian Rose.
Each offers their own unique aroma and sensation when you slip into the tub, and trust us: after using these, you'll be desperately trying to find your favorite one, but it's going to be a tight race. LifeAround2Angels doesn't test on animals whatsoever, so it's definitely a brand you can feel good about supporting.
The only caveat here is that while you don't have to worry about staining, you will have a slight ring of film around the edge of the water that you have to wipe off after use. It comes right off (even if you forget about it), so it shouldn't be a problem.
Runner Up: Bubbly Belle Bath Bombs Gift Set
Size: 11.46" x 8.46" x 3.03" package
Quantity: 12
Type: Gift Set; good for all skin types
Bubbly Belle makes your bath a miniature spa treatment. Much like what we saw with LifeAround2Angels, you're getting a dozen assorted bath bombs in a gift set, and it's packaged similarly as well.
In this kit, every bath bomb is XXL size, or about five ounces each. This is bigger than your standard bath bomb, and yet the price still ends up being cheaper than our top pick, and a lot of other bath bomb gift sets for that matter.
Are they the best bath bombs?
Well, they come pretty close!
You can expect these to last for up to twelve minutes or so, and while that might be a little less than other bath bombs, its still an ample amount of time to slip into some relaxation.
Including oils such as coconut oil, as well as epsom salt and kaolin clay, your skin becomes nourished while your muscles begin to relax. One of Bubble Belle's claims is that this is a spa-grade treatment, and while we would say that these bath bombs are awesome, they're not quite at that level.
The claim that these help relax your muscles made us skeptical, but the inclusion of epsom salts can't be ignored. We don't know how much they use per bath bomb, but you can definitely feel tension melt away when you're soaking in a tub with one of these.
One of the elements of a good bath bomb-filled bath is the aromas that rise from the tub. That's the only reason that Bubbly Belle fell flat: that scents don't really carry over to the tub very well.
You get about thirty seconds of strong aroma before you end up with little to no scents hanging over the tub. Not the best, but still solid and good for the price.
Alternative: Purelis Natural Bath Bomb Gift Set
Size: 17.7" x 11.5" x 2.6" package
Quantity: 40
Type: Gift Set; good for all skin types
I want to start this out by saying that you're getting some of the most inexpensive bath bombs on the market here, and that comes with its trade-offs for sure. You get forty bath bombs for a low per-bomb price, so if saving money is what you8r goal is, then this kit works for you.
Purelis makes good bath bombs, but not the best. Depending on the material your tub is made out of, these bath bombs are going to stick to it.
Honestly, you should just avoid one of the forty in this pack: the black tea bath bomb. You can find plenty of information and reviews that state this is specifically the problem with this kit.
Speaking of kit, Purelis does a lot of advertising with Easter basket-looking packaging and a nice black-and-white striped box, but that's not how your products show up. They come individually wrapped with big stickers on them to tell you which is which.
The coloration isn't the same as you see online. The colors are present, but slightly dulled. The one major reason that Purelis made this list, though?
Sensation. The formula they use gives your skin this overwhelmingly tingly sensation (in a good way) that doesn't slow down for about nine minutes, and it doesn't fizzle out for about fifteen or so.
That's the main point here. The aromas are there, although light, and the coloration isn't exactly the best, but these still make your skin feel clean and soft. There are just enough emollients in here, but don't expect a Lush treatment from these bath bombs.
Purelis does a lot of wordplay on their bath bomb sales page, and honestly, it comes across as a bit dishonest. Take it from us – people who have purchased and used these bath bombs – they talk a tall game, but the product itself is of good quality, just not the best that you're going to find.
Alternative: Ocean Breeze Lavender Bath Bombs
Size: 7.7" x 4.4" x 4.4" package
Quantity: 2
Type: Dual Pack; good for dry skin types
You've seen the kits that come with bang for your buck, but now, we're going to flip the script and hop on the other side of the tracks.
You get two whole bath bombs in this set for the same cost as a dozen in our first two reviewed gift sets. Why would anyone spend that much on these, especially when you could get Lush bath bombs for less?
Because these are amazing. As the best bath bombs on our list when it comes to quality, Ocean Breeze really hit the nail on the head with this one. These are handmade in the Jackpot Candles factory in New York state, which is known to produce some amazing products.
These bath bombs last a while, which is one of the best things about them. Each bath bomb is 10 oz, which are double the size of most XXL bath bombs.
You're getting about twenty minutes to twenty-five minutes of time here, which is beyond plenty to enjoy a spa-like experience.
The sensation on your skin is fantastic, the coloration (blue or purple) is simple but vibrant, and that's not even the best part – the aromas will completely ensnare you.
These scents even linger on your skin for about eight to twelve hours afterwards, so you'll carry these fragrant and tantalizing aromas with you to bed that night, and still have it on you the next morning.
Last but not least, there's a lottery aspect to this: you get a ring inside each bath bomb. While this seems silly to some, these aren't cheap pieces of jewelry out of those $0.25 machines at the store.
They're actually decent costume jewelry, and some are valued from $15 up to $5,000, so you could get lucky and get something beautiful inside.
These feel fantastic during your bath, they soften your skin, and the scents alone are enough of a reason to indulge your senses in these bath bombs.
BEST FOR KIDS: Soap & Bath Bomb Making Kit for Kids
Size: 14.82" x 11.75" x 3.75" package
Quantity: Depends on user interaction
Type: Mold Kit; good for dry and normal skin types
These aren't the best bath bombs from Lush, and they're not a spa treatment, but for kids, you get the opportunity to explain how bath bombs work to them. Not only that, but this is a science experiment, so it's educational at the same time.
Apart from it being a kid's set, it actually has some of the best bath bomb molds that we've personally seen. Don't let the science kit box fool you; there's a great deal of power here.
Use the color tubes to dye the ingredients, while the powders (which include the main ingredients of bath bombs) remain easy to use and imbue with one another.
You have molds here that allow you to use multiple layers, so you can make a sun with sunglasses on, hearts, flowers, butterflies, or the standard basic ball (still with multiple layers).
It's fun, but once again, don't expect a miracle from these bath bombs. They tend to fizzle out after about seven to nine minutes, which isn't the best track record, but they still work.
The important thing here is, since this is a kit for kids, that the bath bombs you create with them are safe to use. As long as your child is old enough to know not to ingest bath water, then they'll be able to use what they create.
Overall, it takes about five minutes to make one bath bomb, so be prepared for a fairly lengthy experiment process (kids have an absolute blast doing these).
Bath Bomb FAQ
What is the Point of a Bath Bomb?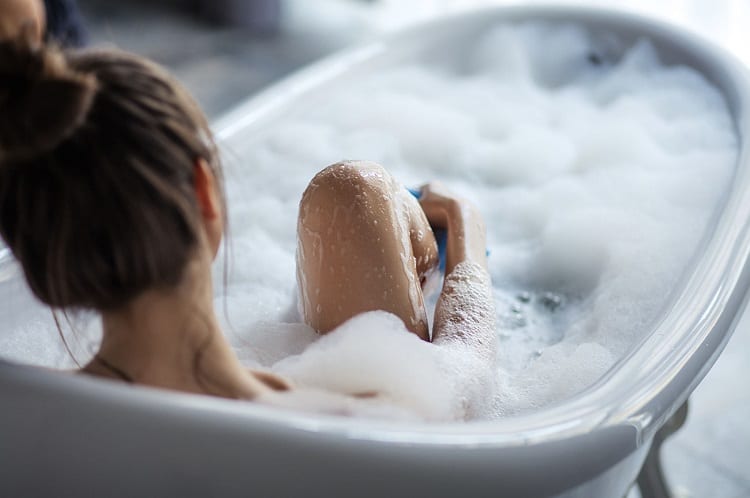 Bath bombs are not intended for cleaning your skin, which is the biggest misconception about them. There are three main reasons to use bath bombs:
Relaxation
Thanks to the emollients in bath bombs, it's just a super relaxing sensation all across your skin.
Most of us shower to conserve our time and get out the door in a presentable fashion, but baths are designed to let us lounge a bit and soak up the atmosphere. Bath bombs not only make the atmosphere fantastic, but the soothing feeling on your skin helps you unwind.
Softens the Skin
Bath bombs contain something called emollients, which help to soften your skin. The two most common ingredients in any bath bombs, and two of the most active ingredients for that matter, are baking soda and citric acid.
These not only feel great on your skin when you're in the bath, but help to hydrate your skin. It's like soaking in moisturizer.
Remove Dead Skin
Last but not least, those same two primary ingredients I mentioned before also help to remove dead skin cells from your body.
This helps your skin feel nice and soft to the touch, but can also help to prevent bacterial skin infections and related acne/irritation since you're removing all this dead skin from your entire body.
It's important to note that the best bath bombs for kids will have different ingredients.
Your skin is like a sponge and absorbs what you put onto it, so the ingredients for children's bath bombs will be a little less potent so you aren't overloading their skin. Still, you can get these same effects in children's bath bombs as well.
Do You Shower After a Bath Bomb?
You do not have to shower after using a bath bomb. At least, not anymore. Years ago, before we all really knew how bad they were, bath bombs contained a lot of parabens. These were bad for your skin, and like we mentioned earlier, they were absorbed by your skin as well.
Parabens are something you do not want hanging around the surface of your skin, because apart from possible toxicity, you're also irritating your skin.
The only other time you should really shower after using a bath bomb is when it includes tons of colorations that don't appear to come off your skin, or when it contains glitter.
Personally, I can't imagine rising out of a bath filled with glitter and just getting dressed, then going on about my day, but we all have our own preferences.
Pay attention to packaging instructions as well to see if the manufacturer recommends that you rinse yourself off or shower after using a bath bomb.
The best bath bomb companies all have their heads on straight, but some DIY bath bomb guides out there don't really direct you properly. If you're just here to find out whether or not you need to shower after a DIY bath bomb, well it depends.
If there's heavy coloration present or your skin has a tingling sensation that goes on for far too long, you might have overused certain ingredients when making the bath bomb in the first place, and you should properly hose yourself down to remove those chemicals from your skin.
Is it Bad to Use a Bath Bomb Every Day?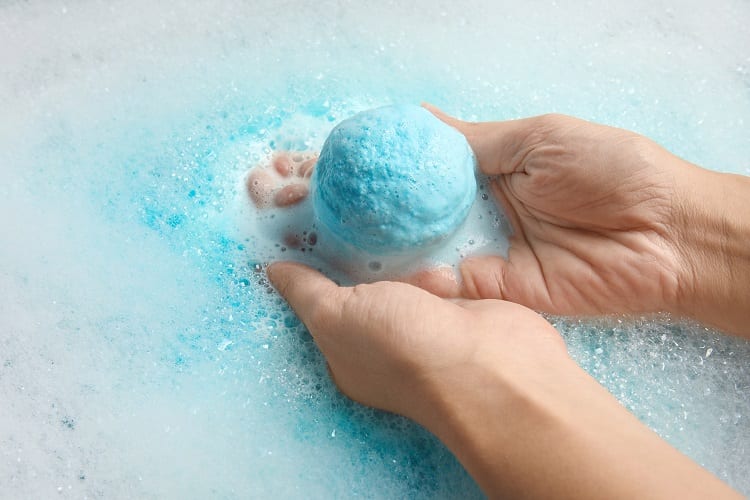 Technically, there's no harm in it. As long as the bath bombs in question don't contain harmful chemicals, you're good to go, but there are some other factors you should consider.
Apart from the cost, you probably shouldn't use bath bombs every day just so that your skin can have some time to breathe in between.
If you have sensitive skin it's recommended to only use bath bombs once per week. You're already making your skin softer by using these, and while that's excellent, it could open your skin up to harm from abrasions or being irritated a little bit easier.
If you have allergies, then you already know that skincare products are a hit or miss kind of thing. What we recommend is putting a bit of baking soda mixed with water on your arm, and letting it sit there for five, ten, or fifteen minutes. If you have a reaction, chances are bath bombs are going to harm your skin.
If you have the time and the aforementioned problems aren't a concern for you, then you can go for it. However, many of us don't have the time every single day to devote to using bath bombs and actually sitting in the mixture for fifteen full minutes, especially when you associate it with the rest of the time required to get ready for a bath and the time after.
Bath bomb use should be once or twice per week.
However, there are some bath bombs for men—specifically designed for men—that can be used more often since they don't have as many chemicals in them. It depends on your budget, time, and how your skin reacts to bath bombs.
Is it Okay to Wash Your Hair in Bath Bomb Water?
It's possible, but there's no real benefit to it. There isn't anything in bath bombs that will make your hair better, stronger, or softer. However, the emollients may help with your scalp.
Unless you're using shampoo that really helps your scalp (and that dollar store stuff doesn't count), bath bomb water could help your scalp out, it's just not going to do anything magical for your hair.
If you're using bath bomb molds to make your own, you could include haircare products in the center if you wish.
Technically, this could make your bath bombs beneficial for your hair, but these products may interfere with the baking soda or citric acid that you use to make the bath bomb in the first place, so it's important to see how these chemicals will react with one another first.
How Long do Bath Bombs Last?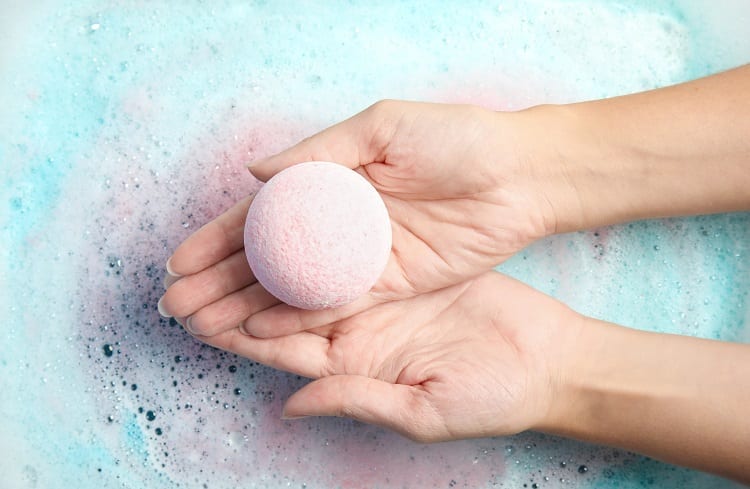 In the water?
Around seven to fifteen minutes. While you're not supposed to soak in the water for longer than fifteen minutes anyway, some people view this as a very short time.
The baking soda is going to react once it's in the water, and the reaction will happen quickly. You can only expect so much from one single bath bomb.
On the shelf, they'll last for about six months or so before the reaction is noticeably less potent than expected. Citric acid and baking soda only have so long on their shelf life, which is why once you open baking soda, it's usually only good for about thirty days.
Keep bath bombs in a cool, dry space during storage, and try to buy them with the intention to use in about three months from the purchase date or so for the best results.
Bombs Away for Your Next Bath
Bath bombs feel fantastic, make your much-needed relaxing bath a spa-like experience, but they also help your skin in more ways than people realize.
If you weren't planning on getting a bath bomb before, we can bet you're thinking about it now. Relaxing, nurturing, and fun, these can be viewed as an investment in your skin health more than anything else.
Now that you know which bath bombs are the best, you can cherry pick the ones you want, drop them in, and let the healing powers wash over you.
---