You've been dying for a good body wash for acne, and after all the letdowns you've had and all the formulas you've tried, you're just quite frankly fed up.
Don't worry; we've got you covered. This list of body washes has been carefully cross-examined for harmful and irritating ingredients that actually make acne worse.
Your body wash should help you fight the good fight and keep body acne (and cystic acne) at bay. We've conjured up this list of body washes to grant you peace of mind, so take a look, and refresh yourself.
Best Body Wash For Acne – Reviews & Buying guide for 2021
Best Overall: Eau Thermale Avene Cleanance Cleansing Gel Soap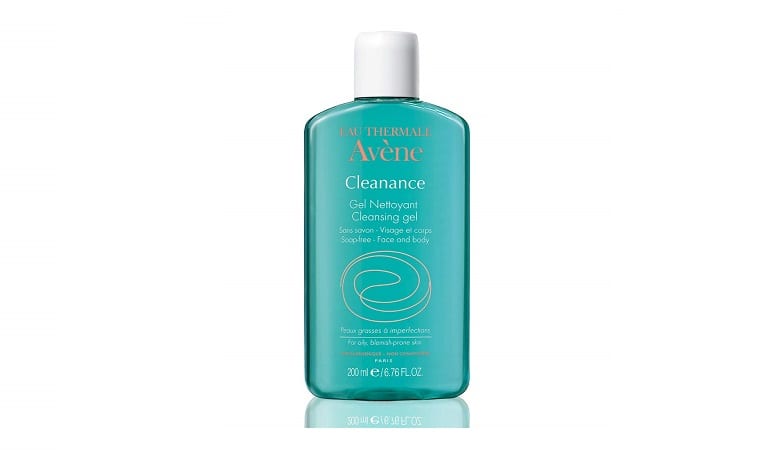 Size: 6.76 fl oz
Scent: Floral
Ingredients: Avene thermal spring water, sodium lauroyl methyl isethionate, zinc coceth sulfate, parfum, yellow 5, sodium hydroxide, and more
Acne is the last thing anyone wants to deal with, but when you can't even see it on your body, it becomes a literal pain.
Eau has a formula that's designed to help with acne everywhere on your body, with no restrictions. As the best body wash for acne prone skin, you'll be able to say sayonara to bacne and acne on other parts of your body.
Eau was designed for people with oily and sensitive skin above everyone else. They include nourishing and healing ingredients such as Avene thermal spring water, which is much softer on your skin than the water that's normally added to body washes (some low-tier companies use tap water with hard buildup).
Each ingredient in here was chosen specifically, and while we still see some carrier products like you'll find in other body washes, those aren't what cause your irritated skin that produces acne.
The goal of Eu is to be soft on your skin, and gently cleanse it without causing friction or making it irritated, and that's exactly what they've done.
This comes out as a thin gel, so it's not going to require too much force to apply and scrub onto your skin. Gently lather it with the tips of your fingers into anywhere that you have acne, and you'll feel its calming effects immediately take root in your skin.
After testing this out, the floral aroma is light enough to not be intrusive, but it can interfere with deodorants and anything else you put onto your skin for aromatic effects. We know you're not buying it for scent, but it's still important to know.
It feels cool and calming when it touches your skin. It should be noted that it's not going to be as soothing as prescription cream, but the last thing you want during your shower is to feel irritation from the one thing that's going to help you.
Eau maintains a comfortable status quo while you shower. While you are paying more per ounce than most body washes, it's worth every penny for the level of relief you get.
Runner Up: Proactiv Acne Cleanser Face Wash and Acne Treatment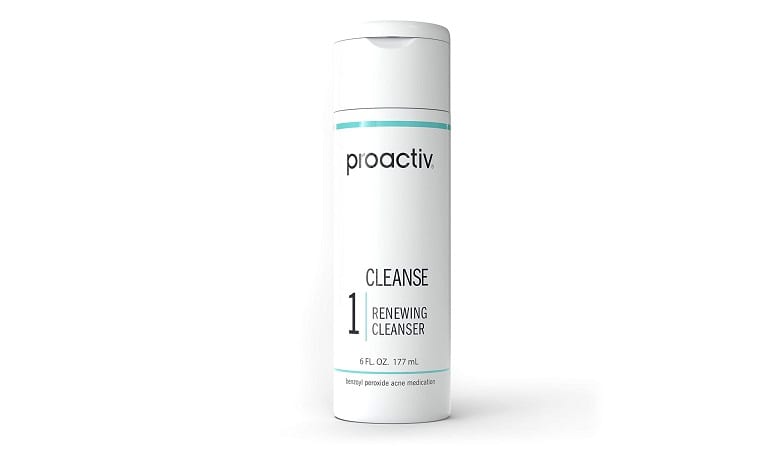 Size: 6 fl oz
Scent: Fragrance free
Ingredients: Benzoyl peroxide, hyaluronic acid, and proprietary custom blends
It was a tight race for the top spot, especially considering Proactiv has been the leader in cleansing, irritation-free acne products for years now.
Proactiv's system used to dominate the midday commercials on 90s and early 2000s television, but now, they actually sell their products piece by piece so you don't have to worry about buying a whole bundled deal.
As the best body washes for acne for long-term use, you get a six ounce bottle that's designed to last for ninety days. Three months of cleansing relief.
Proactiv is extremely picky and careful about what they include in their ingredients list, which is why they not only made it fragrance free (fragrances are known aggressors for skin irritation), but also went with a hyaluronic acid and benzoyl peroxide formula.
This is one of the most time-tested, proven blends to help reduce acne in multiple skin types. In fact, this is just a hare's breath below prescription strength, so you're getting the best OTC power imaginable without having to go to your dermatologist.
There is a caveat here, and that's the total size. Yes, it's a ninety day supply, but they recommend spot treating as an acne treatment instead of using it as a full wash every day.
All that means is you can either double up on their recommended amount (which isn't a bad idea) and have a forty-five day supply instead, or you can use less than a dime-sized amount each day.
It's up to you, but since this comes in at over $4.00 per ounce, it pays to find that sweet spot between relief and cost-effective use.
Last but not least, the application bottle is completely UV-protected and helps prevent moisture damage with its thick casing.
As long as you leave the cap closed, your acne body wash, face scrub, and spot treatment triple threat won't dry out or become less effective. From packaging to the formula and delivery, for years now, nobody has done it like Proactiv.
Alternative: Neutrogena Body Clear Body Wash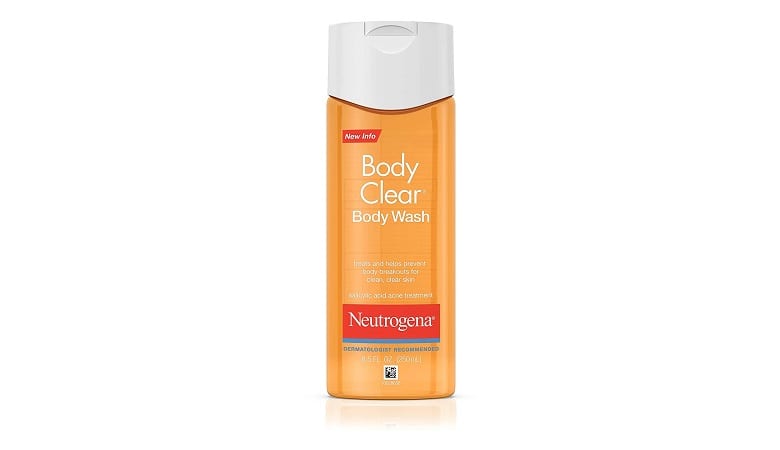 Size: 8.5 fl oz
Scent: Floral fragrance
Ingredients: Salicylic acid, water, olefin sulfonate, cocamidopropyl betaine, sodium methyl cocoyl taurate, triclosan, and more
Just like Proactiv, Neutrogena is another time-tested brand that plenty of acne sufferers have used in the past for relief.
Now, it's important to know that Neutrogena is not an acne-fighting brand on its own, but the way they make their products does appeal to anyone suffering with bodily acne.
It's the best body wash for acne on back and chest spots because you get an abundance, and it's designed with bacteria-fighting ingredients that help prevent the spread of cystic acne.
Body Clear is their cleaner lineup of products that take most of the additives out to make it skin-friendly for those suffering from acne, or dry skin.
With a 2% salicylic acid, it neutralizes bacteria on the skin, but also helps to remove dead skin cells more effectively than leading body wash brands without causing extra irritation to boot. Salicylic acid may sound harsh, but it's a lot more gentle on your skin than you might imagine.
The major trade-off here is that, since we know fragrances can still affect your skin, the pungent floral fragrance may be an aggressor. It all depends on your skin type and your experience. Personally, we found no issues with it, but everybody is different.
For a decent price, you get 8.5 fl oz, which should last you for about one to two months. With most body washes, when it foams and lathers, it can irritate dry skin. Body Clear hits the middle of the road between being effective on dry skin, and being beneficial to acne-ridden skin.
There are no bulk buying options, but if you do end up liking Body Clear, you'll be happy to know that Neutrogena depends on this lineup and won't likely switch out the formula anytime soon. It's one of the go-to brands that sensitive skin types and acne sufferers flock to.
Alternative: Glytone Exfoliating Body Wash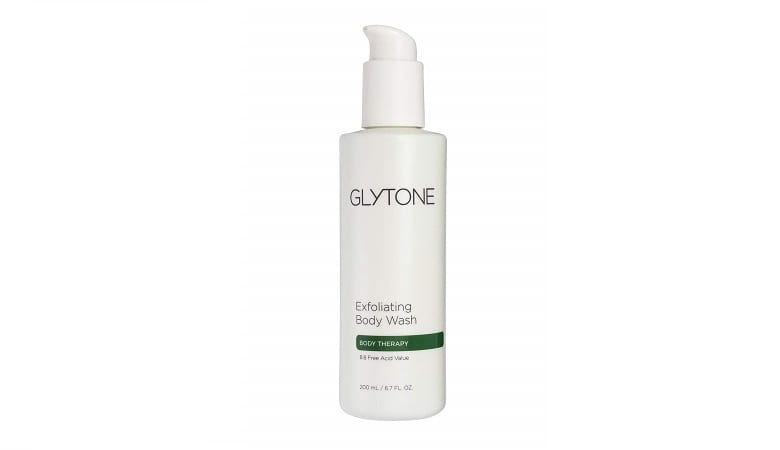 Size: 6.7 fl oz
Scent: Light medicated aroma
Ingredients: Glycolic acid, water, ammonium lauryl sulfate, potassium hydroxide, cocamidopropyl betaine, and more
If you need the best body wash for acne scars, look no further. Glytone uses a PFAV glycolic acid, which is the primary reason that acne sufferers come to them.
This is pricey at nearly $5.00 per ounce on average, but depending on the current deals or the type that you need, you could end up with plenty to last you.
The good thing is that you don't need a lot of Glytone to get the benefits. This concentrated body wash does more than most, because as you use it, it exfoliates your skin.
Exfoliation is key to removing dead skin cells that could be clogging your pores in and around areas of acne on your back, chest, and even your face.
When dead skin sits beneath the surface and clogs pores, it becomes a constant battle to remove it without damaging your skin further. Glytone lightly exfoliates the skin, and while this surely isn't a daily body wash, the enhanced PFAV glycolic acid helps maintain your skin in between use.
The catch is that this isn't designed for oily skin types. It may actually be less effective, but on dry and normal skin types, it appears to show the greatest results.
Glycolic acid can sometimes get lost in excess sebum production when it sits on top of the skin, but if that's not an issue for you, continue onward.
For the cost, the effectiveness, and the fast track to clearing up acne in a short time frame, Glytone is absolutely worth it. Keep in mind that everyone has different experiences, and while some users reported visible changes and reductions in their acne in a few days, for some, it was a week or so.
our experience will vary, but based on the consensus from everywhere we could possibly find, Glytone works well.
Alternative: Level Naturals Frankincense + Myrrh Bar Soap
Size: 5.8 oz
Scent: Frankincense
Ingredients: Cocos nucifera, glycine soja oil, water, chamomilla recutita flower extract, mentha piperita leaf, mineral pigment, and more
Bar soap is still a thing in 2021. As a matter of fact, thanks to certain brands that you might have seen flooding YouTube ads since 2018, bar soap is bigger than ever (as long as it's all natural).
Level Naturals is the best body wash for chest acne thanks to its dedication to sticking to nature's ingredients above all else.
Bar soap doesn't require the same ingredients as body wash to stay in a liquid form, and because of that, it not only ends up being better for your skin, but it also leaves room for high-quality ingredients.
This is one of the only times where you'll see us mention that in this sense, a fragrance actually isn't a known skin aggressor.
The main fragrance you get is frankincense (hence the name of this bar soap lineup). It's earthy, it's light, and it's pleasant above all else. It can be covered up with deodorants and fragrances if you wish, but it's not too persistent.
Everything you're smelling is natural, and with the inclusion of chamomilla recutita flower extract, mineral pigments, jojoba oil and so much more, you're getting natural nourishment for your skin.
Because this isn't tough on your skin like synthetic detergents are, it helps clean out dead skin cells and flush bacteria down the drain better than liquid body wash does.
The amount of pressure is in your hands. Scrub harder on areas with no acne to get a deeper clean, and be gentle around your chest and back where acne is persistent.
Saffron, olive oil, rapeseed, and other ingredients in this bar of soap will naturally nourish your skin. Overall, this is just a better set of ingredients for your skin regardless of acne being an issue or not.
Body Wash for Acne FAQ
How Do I Get Rid of Body Acne?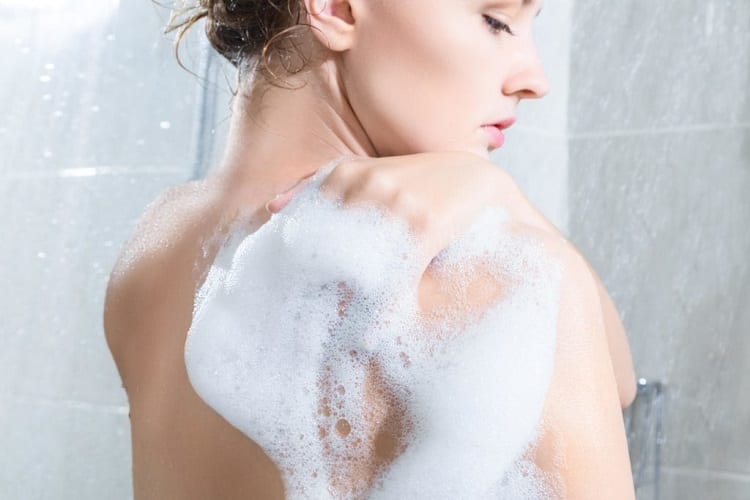 Grab the best body wash for cystic acne or whatever type of acne you're fighting against, and start there. Apart from that daily ritual, you can use these other methods to help you out.
Regular Showers: Sebum is the main oil that builds up in the skin. You want to wash this away so it doesn't clog your pores. Dead skin cells, dirt from the environment, and any skin-borne bacteria will also be present, so showering on a daily basis will constantly wash these away (with the right washing agents, of course).
Spot Treatments: What a spot treatment does is focus on a small area of your skin, and shrink your pores. This kind of squeezes everything out in a comfortable, natural way, but it also reduces the areas that irritants can soak into your pores and cause more acne.
Check That Body Lotion: Does your body lotion contain comedogenics? By that, I mean known pore-clogging ingredients. These literally cause acne by not letting your skin breathe, so avoid them at all costs. Check the ingredients in your body lotion, and consider upgrading to an acne-sensitive one if you spot harmful chemical ingredients.
Change Your Wardrobe: Loose, breathable fabrics don't trap dirt as much. They let your skin breathe and prevent dirt from building up on your pores from sweat. This is a simple tip, but an effective one (especially during the summer months).
Hydrate: A lot of problems with our skin can start from the inside rather than environmental damage. Hydrate your skin so that when you use glycerin that's located in your body wash, it will have moisture to pull up from your dermis to protect your epidermis.
Exfoliate Regularly: Not every day, but you should be exfoliating at least once per week, two if your skin can handle it. The top layer of your skin is called the epidermis, and it pulls dead skin to its surface through a process of cell turnover. Exfoliating helps you remove dead skin cells from deeper regions of your pores, preventing acne before it happens.
Switch Out Your Detergent: It could all be because of your laundry detergent. Check it out, and look for hypoallergenic blends if your current detergent is filled with harmful chemicals (spoiler alert: most detergents are).
What Causes Body Acne in Females?
Sebum production is the most common cause. In some females, they produce more sebum on their back than males, which results in clogged pores in one of the least breathable areas of your skin (consider the fact that we're clothed 98% of the time).
Sebum is the oil that we want to get rid of from your skin.
The best body wash for acne on back applications will help to alleviate the issue, but softer, gentler body washes aren't the only line of defense you should use. Gentle body washes help prevent more acne from cropping up and maintaining healthy skin, but exfoliation will help expedite your relief.
When you exfoliate, as we mentioned above, you're removing a deeper layer of dead skin and giving your pores more room to breathe.
At the very least, you clear a pathway for sebum production to continue, but without it stalling and clogging pores, leading to acne. If you have cystic acne, keeping your sebum production in line is even more dire.
What is Back Acne a Sign of?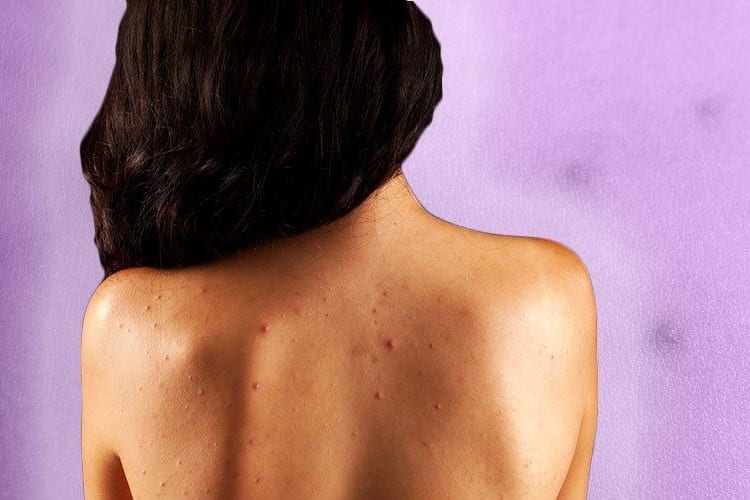 Back acne is usually a sign of a hormonal imbalance. A dermatologist may be able to recommend medication to help with this, which we'll talk about more in the next section. However, it can also be caused by something called acne mechanica.
This is basically just friction that causes acne, and may be a sign of cystic acne as well if you notice this persisting on other parts of your body apart from your back and shoulders.
You could have ill-fitting clothing that's too tight, or perhaps it comes down to the material. If you've ever noticed a skin sensitivity to a certain kind of fabric or material, your clothing could be the issue.
An allergy to a material could be so minor that you don't really notice it at first, but if you have the opportunity, look at the tags in your current clothing to see what materials they're made out of and look them up.
If you have acne mechanica, your skin is extremely easy to irritate. You can use gentle soaps and body washes, hydroxy acids, vitamins, and benzoyl peroxide for immediate relief.
You may also have to take antibiotics depending on how severe your current case is. At any rate, switching soaps and body washes can make a world of difference in protecting your skin.
Can Hormones Cause Acne on Back?
Absolutely. Some of us are just dealt a bad hand, and our hormones and genetic markers are the only reason we end up with back acne in the first place. Unfortunately, this is mostly common on the back instead of other areas, making it hard to treat.
While hormone imbalances can cause facial acne as well, this is usually the "teenage acne" that we all endure at some point, but back acne can continue even when you're an adult and your hormones have settled down. It doesn't discriminate.
At this point, you can continue trying body washes that help with acne, but you may need to seek the help of a dermatologist to really lend you a helping hand.
They can help you by testing your skin and determining what the root cause is, and what you can do to fix it. It may include medications, medicated body washes, or it could be something simple like using tea tree oil on your skin once per day.
There's nothing wrong with trying different acne-fighting body washes in the meantime if you don't want to schedule an expensive appointment with a dermatologist, just be sure that you don't rule out the potential need to meet with them if body washes don't do the trick.
Removing Back and Body Acne One Shower at a Time
Nobody wants acne all over their body, or "bacne", and it's a stubborn pain to try and get rid of. We made this list to expedite the research process for you.
While we can't account for 100% of every irritant on the planet (we all have different skin), we have taken a look at all these ingredient lists and made sure that you're not harming your skin by using them.
Now that you can just pick one simple solution and hit the ground running, what will you do with the upcoming days of acne-free skin?
It's more than just self-care; it's about getting your confidence back, and that's what these body washes can do for you.
---