Dealing with dry skin (let alone combination skin) is a pain.
You have to cherry pick every single ingredient, and read the fine print on every label while other people just pick something random off the shelves, and it just works for them.
The fact of the matter is that some body washes just dry your skin out more, which is pretty ironic. We made this list as a safe haven away from all the harsh body washes out there.
It's time to show you the best body washes for dry skin and a few alternatives that you can choose from depending on your preferences.
Best Body Wash For Dry Skin – Reviews & Buying guide for 2021
Best Overall: Aveeno Daily Body Wash for Dry Skin
Size: 18 fl oz (3 pack, 54 fl oz total)
Scent: Oat and vanilla
Ingredients: Glycerin, water, sodium lauryl sulfate, fragrance, citric acid, tetrasodium glutamate diacetate, laureth-4, yogurt, and more
Dry skin body wash is just built differently. The entire point is to incorporate ingredients that you don't see anywhere else, and make sure that they're going to do their job without making your skin worse for wear.
Aveeno is regarded as one of the best allies to anyone with dry skin, and they've gone above and beyond with this miracle body wash. We don't even know if they really understood just how effective it would be, but it hits the nail on the head.
Thanks to the incorporation of vanilla yogurt, you get this deep cleansing, moisturizing feeling on your skin the entire way through.
Moisturized skin shouldn't have any scratchiness, and once you dry and the heat dissipates from the shower stall, your skin will still be moist and retain that soft feeling. No more scratchy, dry skin.
They still include SLS, which isn't skin-friendly, but to keep the body wash intact some ingredients couldn't be swapped out.
That being said, it's still a solid body wash that doesn't dry out your skin, and it's as close to perfect as we can expect without paying $100+ per ounce from some no-name company halfway across the world.
When you boil it down, there are still some ingredients that we don't want to be there, but you're going to find trade-offs with every body wash and shampoo that you search for.
It's just one of the battles of having dry skin. Aveeno does a fantastic job of making sure that their body wash heals your skin instead of damaging it.
This body wash is completely unisex: everybody likes the smell of vanilla, and there's no hormone compounds that would affect men or women differently, so it's safe to use for anyone (including children with dry skin issues).
This is the best deal you can find: a total of 54 fl oz for a jaw-droppingly low price. You're not going to shield your skin better than you will by using Aveeno.
Runner Up: Cetaphil Gentle Skin Cleanser
Size: 20 fl oz
Scent: Fragrance free
Ingredients: Water, cetyl alcohol, sodium lauryl sulfate, butylparaben, methylparaben, stearyl alcohol, and more
Cetaphil has a sordid past, because if you dig deep enough, you'll find that some people call this a good body wash for dry skin, and others have had reactions that included profanities and refund demands.
That sounds scary, I know, but it's all about reading the ingredients and making sure you know what your skin can and cannot handle. This formula has changed over the years, so older online reviews don't really capture what they've done to it in recent years.
With all that out of the way, you'll be happy to know that you get a nice deep clean from Cetaphil's anti irritation formula.
There's no soap here, and while that may sound concerned (especially if this is your first time looking for dry skin body wash), it's actually a good thing. It gets rid of all those synthetic detergents found in FDA-approved body washes.
The ingredients list includes SLS, but like we discussed with Aveeno, you're going to run into this additive everywhere you look. Thanks to the concentration of cetyl alcohol, you're able to scrub your skin gently while still killing bacteria that contribute to dry skin.
You get a total of 20 fl oz, and for the cost, that works out to be more expensive than Aveeno, but still well within the budget of just about anyone who seriously wants to correct their dry skin.
Vitamin-enriched, dermatologist-recommended, and one of the internet's most-reviewed body washes for dry skin, Cetaphil provides an experience and relief that you can trust.
If you've used them in the past and you aren't sure about them now, trust us when we say it: they're one of the best options you have against dry skin.
Alternative: Eucerin Advanced Cleansing Body and Face Cleanser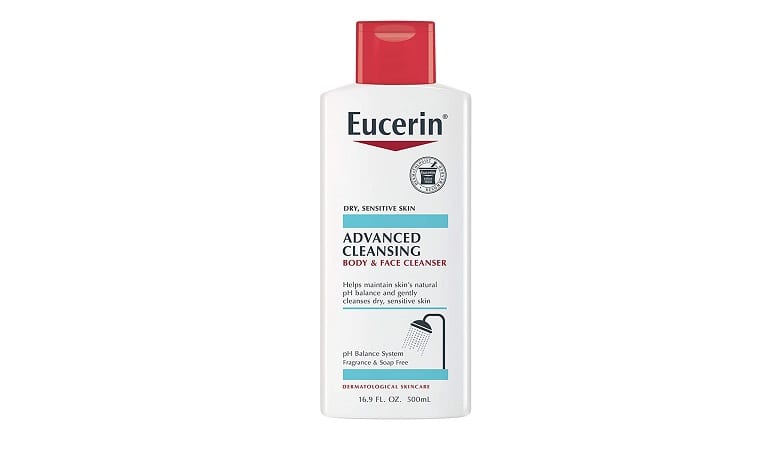 Size: 16.9 fl oz
Scent: Fragrance free
Ingredients: Water, sodium cocoamphoacetate, sodium myreth sulfate, lauryl glucoside, sodium chloride, and more
Eucerin has provided us with one of the best body wash for dry itchy skin for years, and their advanced formula hasn't stopped being exactly what the doctor ordered.
First and foremost, their pH balancing formula helps with dandruff and flaky skin as well as cleaning your pores. This is huge if dry skin continuously plagues you over and over again.
The advanced formula helps sensitive skin as well, so you get a gateway into combination skin types and a wider area of effect.
Eucerin is one of the only two-in-one body washes that actually live up to the expectations, and work well for your face and for the rest of your body. The formula is so gentle that you won't be left with red, stingy eyes when all is said and done.
Eucerin is one of the most-trusted brands for dry skin primarily because it's affordable, and it works. Normally, you have to go up the price ladder to find a formula like this, but Eucerin gives it to you at an absolute steal of a price.
For the low cost, you get 16.9 fl oz, which is basically the same volume as most shower conditioners and shampoos. It's a lot of power.
Comedogenics are something you have to look out for in skincare products (as we'll explain later on in the guide below), and Eucerin does not include them in their products.
Designed for sensitive and dry skin, they're also soap free while still including a healthy cleansing formula that removes dirt and built up sebum from your skin without removing all natural oils.
The fight for combating dry skin is determining how many oils you're pulling from your skin, and how many you're leaving. Eucerin helps you play the neutral party in that fight so your skin gets clean, it prevents acne and irritation from clogged pores, but it also doesn't dry your skin out.
Alternative: Dove DermaSeries Face Wash for Dry Skin
Size: 8.45 fl oz (6 pack, 50.70 fl oz in total)
Scent: Fragrance free
Ingredients: Water, petrolatum, stearic acid, mineral oil, panthenol, ascorbic acid, glyceryl stearate, disodium edta, and more
Dove is a good company with excellent attention to detail in their products, and this time around, you're going to get this impeccable face wash that leaves you feeling refreshed; not regretful.
Dove is sensitive on skin with their inclusion of petrolatum and mineral oil in their ingredients list, among other additives.
Are they the most sensitive thing on the earth for your face?
No, but they're one of the most cost-effective options without getting into high-end, otherworldly-sounding ingredients that haven't been tested. The skin on your face is so thin compared to the rest of your body, and it absorbs what you put on it so much faster. Dove accounts for that.
Apart from the excellent ingredients, you get a good mix of lather and solidity when you press down on the pump. The bottle helps add light levels of air to the mixture, making it easier to spread and less concentrated. Rub it into circles and rinse off per the instructions, and you'll feel refreshed.
This is simply anecdotal, but after using it ourselves, it feels like your pores close up tighter than before. It doesn't feel dry, but rather protected and less likely to absorb dirt and environmental damage throughout the day that would normally add to your skin's dry feeling.
Dove is designed to assist with psoriasis and eczema issues. They're just a step below being prescription strength, and that's a tightrope they walk very carefully. If you really need something powerful to help you out, Dove is the way to go.
Last but not least, this is a total of 50.7 fl oz of Dove DermaSeries – it's a bulk deal on well over a year's worth of fragrance-free facial wash and body wash. As far as we've been able to find, their bulk deals only last for so long, but it's definitely worth it to stock up on everything now.
Alternative: So Lvly Skin Care Body Wash Moisturizer and Refresher
Size: 13.53 fl oz
Scent: Macadamia
Ingredients: Water, cocamidopropyl betaine, sodium laureth sulfate, glycerin, aloe, vitamin E, and more
Body wash for extremely dry skin isn't easy to find. In fact, it's even harder to spot, because so many brands just look the same.
That is, until So Lvly skin care came into the game. They use a very bright bottle to show that they're not like the rest, and when you get into the meat and potatoes of that ingredient list, you'll realize that they're something new and refreshing.
Do they have additives that other body washes have?
Yes they do, but they also include glycerin, which is one of the best things you can put on your dry skin. Glycerin works best by pulling liquid out from your dermis – the middle layer of your skin – right to the surface, which is called the epidermis.
It's like So Lvly is extracting the water from your skin in an area that your body can rapidly replenish it, and forcing it to go into the spots that it's needed most.
This moisturizing body wash for dry skin also includes aloe and vitamin E, two core components that you'll find in more nature-centric body washes for dry skin.
Overall, it's a killer combination that really puts everything that your body needs into one bottle, and leaves out most of the ingredients that you don't. Some carrier ingredients are inevitable, however.
In terms of cleaning your skin, So Lvly made the bottom of the list because you have to use a tad bit more than expected to really feel clean and remove all that excess sebum from your pores, but bearing that in mind, it's better to start off gentle than be too overwhelming on your sensitive skin.
In terms of value, it's decent enough, and has a unique macadamia aroma that you don't get with anything else on the list.
Body Wash for Dry Skin Buying Guide and FAQ
Can Bodywash Cause Dry Skin?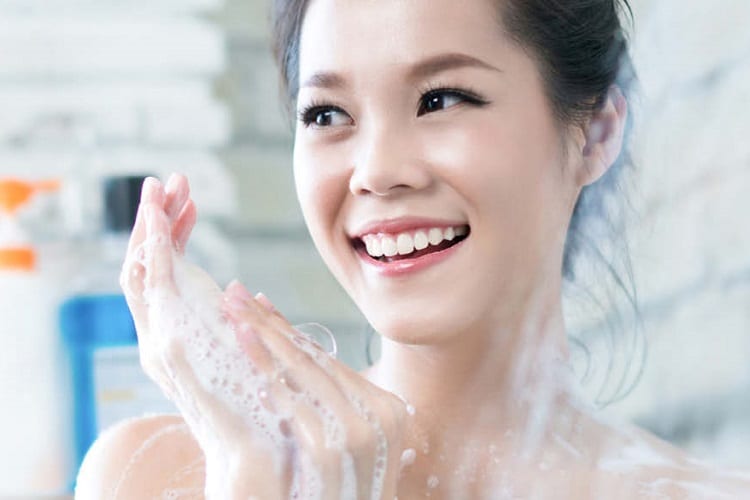 Body wash can actually cause dry skin. Seriously, you might not even technically have dry skin, but you might have been using the same horrible body wash for years.
Did you switch body wash brands at some point?
Yeah, that probably didn't make much of a difference. Most body washes are actually labeled as detergents by the FDA.
Rubbing detergents on your skin, for all intents and purposes, is just going to damage it. If you notice, detergent can be powerful enough to strip the color out of clothing; what else do you think it can do?
Your skin produces natural oils, and while everyone's skin produces these oils, they're always in a different formula, so to speak. It's not like your skin produces it differently from Average Joe's skin, but rather, the percentages of different oils and the speed at which it's produced.
That being said, you might not produce as much oil as someone else. It could be diet-related, it could be skin related, but it doesn't mean you have dry skin.
Not just yet. When you use oil-stripping detergent – er, body wash – it doesn't differentiate between good and bad oils. It's just going to take oil off of your skin, even if it's beneficial.
Most body washes that aren't designed for dry or sensitive skin include irritants, such as SLS, formaldehyde, retinyl palmitate, retinol, and other inhibitors. Unless you know every ingredient in your body wash intimately, you're probably scrubbing yourself with an oil killer.
Using the best body wash for very dry skin will help combat this by keeping as many of your natural oils intact as possible. It not only cleans you while preserving most of your skin oil, but it's not as harsh, either.
What Can Dry Skin be a Sign of?
Dry skin isn't its own issue; it usually means that your body is showing you a sign that something else is wrong. It doesn't have to be severe, either, but it is something wrong nonetheless.
Dry skin could mean that you're dehydrated, which is an internal issue. Your skin is actually your largest organ, if you don't treat it right, it will begin to show you signs that something is wrong so that you can fix it.
Dry, flaky, irritated or cracked skin could simply be a hydration issue. It's estimated that at least half of people in the US alone don't drink enough water each day.
Depending on the situation, dry skin could be a sign of skin conditions (dry skin itself is not a condition). Atopic dermatitis, eczema, and psoriasis are the most common, although there is an endless list of skin issues that just goes on and on.
The weather, heat, and even taking showers that are too hot could all lead to dry skin. Comb through your day and think about the heat in the shower, think about the climate you live in, and make sure you drink more water to combat it.
Using a body wash for extra dry skin will help remedy the issues on the outside, but you'll still have to find out what's going on internally. We provided some good places to look, but the issues could be underneath the surface.
Does Drinking Water Help Dry Skin?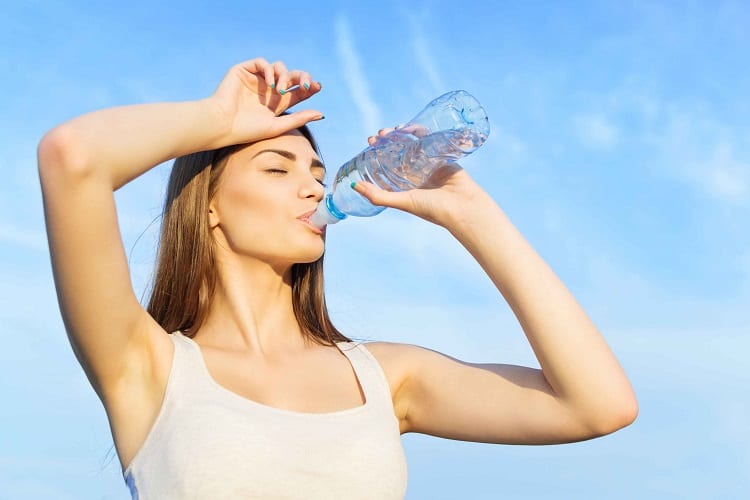 It does, and it doesn't. Let me explain.
You have three layers of your skin. On the top, you have the epidermis, in the middle you have the dermis, and underneath is the subcutaneous tissue.
When you drink water, it starts working from the inside out. A well-hydrated person is going to help nourish that subcutaneous tissue layer, which helps in numerous ways. It's your body's internal areas making contact with your skin.
Proper hydration helps nourish this area, which can affect the middle layer, the dermis. When you look from the outside, dry skin can be caused by heat, cold weather, and hot showers. Basically, there are enough issues you could introduce on your own.
That being said, if you hydrate your epidermis layer with the proper body wash, hydrating moisturizers, and everything you can, this will also slightly impact the dermis layer.
If you don't drink enough water, start doing it. Drinking more water can help your skin as a whole. If you already drink a decent amount of water, increasing that limit may not actually do much, and most of your dry skin problems will likely be external.
As a rule of thumb, we should all be drinking more water. It's estimated that a healthy adult male should have 15.5 cups of water per day to stay healthy, and if we're being honest, most of us aren't doing that.
So you can use the top body wash for dry skin and hydrate to ensure the best possible skin health, since both will affect the dermis to some extent. Just don't expect a miracle from drinking water.
What Foods Hydrate Your Skin?
Moisturizing body wash for dry skin is great and all, but if you're looking to hydrate your skin through food (which is about 20% of everyone's hydration intake), these foods will help you out.
Eating these while having a healthy skincare regimen and drinking more water is like a powerhouse combination.
Coconut: Have coconut oil since it's the most effective way to help. You'll find coconut oil in most moisturizers and topical applications.
Oatmeal: Oats are actually a powerful food, and the fiber in oats can help prevent dead skin from congregating and drying out your nourished skin.
Avocado: The natural fats here help out with your skin. Vitamins, fats, and proteins all work together to nourish your skin as a whole.
Salmon: Omega-3's are the name of the game, because these are what help you lock in moisture thanks to the healthy, natural fats.
Leafy Greens: The darker, the better. Free radicals damage the skin, and these foods help trap and disable free radicals in your body (psst, it also helps reduce multiple types of cancer).
Wet Fruits: Berries, for example, have a lot of hydration with little natural sugar. Bitter-ish fruits are better for your skin than sugar-rich fruits.
Extra Virgin Olive Oil: You'll also see this in topical applications and moisturizers. EVOO has a blend of healthy fats that are great for your skin, plain and simple.
Hydrating Your Skin Every Way You Can
Paying attention to every ingredient in your body wash is tiresome work, so we've gone ahead and done the legwork for you.
Enjoy any body wash from this list to say goodbye to dry, flaky skin, and actually feel refreshed when you come out of the shower.
Now that you don't have to worry about irritated, dry skin throughout your entire day, what will you be able to accomplish?
These body washes don't just give you comfort – they give you peace of mind.
---