Bronzer can add a nice glow, warm up your fair skin, and help you develop a new look that you really appreciate.
It's a powerful cosmetic that doesn't weigh down on your skin (if you know what to pick).
It can be difficult when a lot of brands just label their bronzer as "for fair skin", but then you try it, and realize they clearly didn't know what they were talking about. It gets frustrating.
Fortunately for you, we've chosen the best bronzer for light skin and a short list of alternatives. If you're currently trying to get that nice glow and the products you've tried look too contrasting and heavy on your skin, this is the guide for you.
Best Bronzer For Fair Skin – Reviews & Buying guide for 2021
Best Overall: L'Oreal Paris Lumi Bronze It Bronzer
Size: 0.41 fl oz
Shade: Light
Type: Natural Finish
A little bit of bronzer goes a long way, and on our list, L'Oreal Paris gives you the second highest volume at just 0.41 fl oz.
If you're new to bronzer, that's a fair amount for the price. Apart from always being an affordable, middle-shelf kind of company, L'Oreal Paris really stepped up their game with the True Match Lumi bronzer.
There's no hard clay-like feeling on your fingers when your brush them across the surface of your bronzer. From the beginning, it feels silky smooth on your fingertips, and you'll be able to feel that same smoothness when you apply it to your skin.
One of the most challenging parts of applying bronzer is blotting. We all have extremely tiny white hairs all across our face (and body), and low-grade bronzer can get stuck on those hairs, making it impossible to spread properly.
L'Oreal must have thought of this, because the formula glides on so gloriously. It's the best bronzer for fair skin with pink undertones, primarily because it's part of a two-step system.
Full disclosure: we did use the two-step system, which is not included in this price, and the results were noticeably better than using the bronzer by itself. When soloed out, the bronzer still outperformed every other one on our list, though.
Utilize the Lumi Glotion offered by L'Oreal Parir to get a seriously gorgeous glow in no time, and provide that multi-dimensional, brushed-on-by-angels bronze color that you've been craving.
With a light color palette and natural finish, this doesn't rest heavily on your pores or your skin. It will enhance your already flawless features without becoming the focal point, which is exactly what you want in a quality bronzer.
Runner Up: Physicians Formula Glow-Boosting Bronzer
Size: 0.30 oz
Shade: Light to Medium
Type: Glow Finish
Out of the best bronzers in the world comes from Physicians Formula. For light to medium skin tones, you'll be able to flawlessly blend your natural fair skin tone in with this bronzer to bring a glorious, even tan to your cheeks and chin.
The color blending is excellent, although freckled skin may run into an issue with the coloration, which is something we definitely need to talk about.
As one of the best body bronzer for fair skin, and knowing how fair skin goes, Physicians Formula may appear spotty at first if you have a high number of freckles on your face.
That being said, it doesn't take long for it to blend together and mimic your skin's natural tone. You can't just throw this on and be out the door; blending is going to take a little more time than average.
What that means is you'll end up with a deeper, more fulfilling bronze to your skin, it's just not for those quick two-minute makeup routines during a busy morning.
Included in the formula, you also get natural Glow Activators, infused with vitamins and moisturizing properties, as well as antioxidants to help your skin.
With fair skin, the last thing you want is for your bronzer to begin to wear off at random. That's why Physicians Formula uses triple-action bronze boosting power to not only help you keep that luster going all throughout the day, but to make sure this holds properly and doesn't begin to cake off.
If you have sensitive skin (as many of us fair-skinned folk do), Physicians Formula was designed for you.
Thanks to the natural and gentle components, this bronzer is actually recommended by plastic surgeons, allergists, and even dermatologists – it's the ultimate bronzer for fair, sensitive skin.
Designed to be sensitive around the eyes and light on your pores, Physicians Formula may be the last bronzer brand you ever need to buy from.
Alternative: Laura Geller New York Baked Bronzer
Size: 2.08 oz
Shade: Fair
Type: Bright Finish
If you haven't heard of Laura Geller, then I'm truly sorry. This is one of those trade secrets you've been missing out on for far too long. Laura Geller gives you a fantastic 2.08 ounces – which is a lot for any bronzer – all at the same cost as most 0.30 ounce containers. Why do they do this?
There's a catch.
This isn't designed for sensitive skin. Apart from the isopropyl and talc, which can irritate sensitive skin, it can feel a bit harsh when it goes on.
This is a bit thicker than many bronzers out there, so you have to use diligence when applying, but in reality all this means is that it's going to last for a lot longer than you're anticipating.
It's not the best bronzer for fair skin, but it's close. There's immense monetary value, volume value, and of course, the color that it gives you. If you want to attract attention to your face, but not necessarily your cosmetics, you're not alone. Laura Geller gives you a formula that works for just about every skin tone.
This particular bronzer has a bright finish, giving you just enough glow without making your cheeks and chin the star of the show.
However, there are other tones that are available if this one doesn't tickle your fancy. Laura Geller's lineup has been used by fair-skinned and dark-skinned people alike for years now.
Much like with any beauty product that contains natural ingredients, you have to be weary of some batches coming in with irregularities.
Laura Geller has integrity to their brand and doesn't ship faulty products, but if your Bronze-N-Brighten Bronzer looks different from the first time you've ordered it, it's just part of the process and the product is still good to go.
Alternative: NYX Professional Makeup Matte Bronzer
Size: 0.33 oz
Shade: Medium
Type: Matte Finish
Need a more budget-friendly choice?
Not to worry. NYX comes in with this inexpensive medium bronzer, which earned our spot as the best bronzer for fair skin with yellow undertones (not an easy shade of bronzer to pull off).
You're looking at 0.33 ounces, which is fairly standard, and you'll be able to save some money in the process. NYX has fairly standard packaging for their products with flip tops, so don't expect anything too elegant here.
This full coverage bronzer comes with ingredients that you would expect, such as talc, magnesium, and dimethicone, so sensitive skin users might have a bit of an issue with this bronzer. Thankfully, it's an inexpensive venture to test out on yourself to see the difference.
You're not getting as many hydrating effects or deep skin benefits, and that's okay. Being able to pull out those yellow undertones and make them work for you instead of against you is the brilliant simplicity of NYX.
Keep in mind that this bronzer is also designed to work on darker skin, so if you end up getting that tan that you've been trying to, this will still carry weight with you through that time.
NYX is often used by Middle-Eastern and Indian users to help balance out yellows, and continues to work beautifully. As a side note, you get a small mirror included in your purchase.
Alternative: Physicians Formula Bronze Booster Bronzer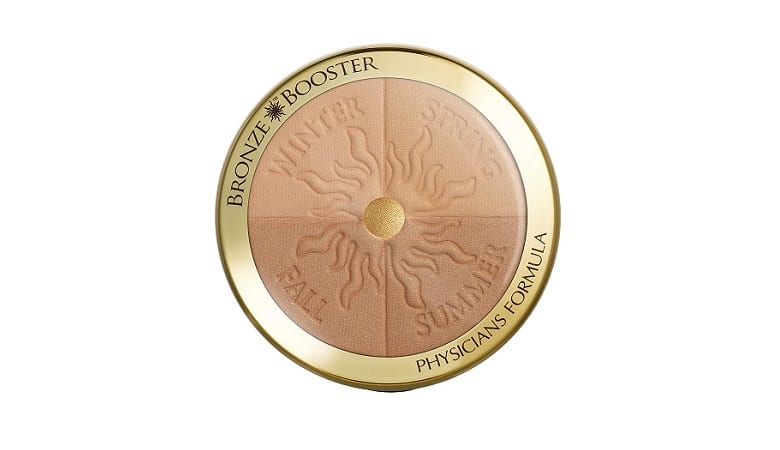 Size: 0.27 oz
Shade: Light to Medium
Type: Slight Sparkle Finish
We're back at it again with another Physicians Formula. This one is a bit gentler on fair skin, and gives you what you need to bring out a light to medium shade in your cheeks and chin.
Primarily, pink and yellow undertones both appear to benefit from this formula thanks to the glow-boosting properties, which help bring some brightness to the face.
It's a good bronzer for fair skin, but there's a reason that it didn't outweigh the other Physicians Formula bronzer on the list. This is cheaper, and comes with 0.06 ounces less, and that's because they've switched out some ingredients for more typical chemically-derived ones.
They're very clear and concise with the ingredients and don't try to mask anything, and that honesty wins points here. This is something that you should use if your skin isn't overly sensitive.
While the underlying ingredients are meant to nourish the skin, there are noticeably less hydrating benefits compared to the bronze booster from Physicians Formula that we reviewed earlier.
It's a solid, mid-tier bronzer that works well for light to medium shades, so as you tan through the summer, this will still work wonders for you. Getting even lighter through a long winter?
Yeah: it still works wonders!
Bronzer for Fair Skin FAQ
What Type of Bronzer is Best for Fair Skin?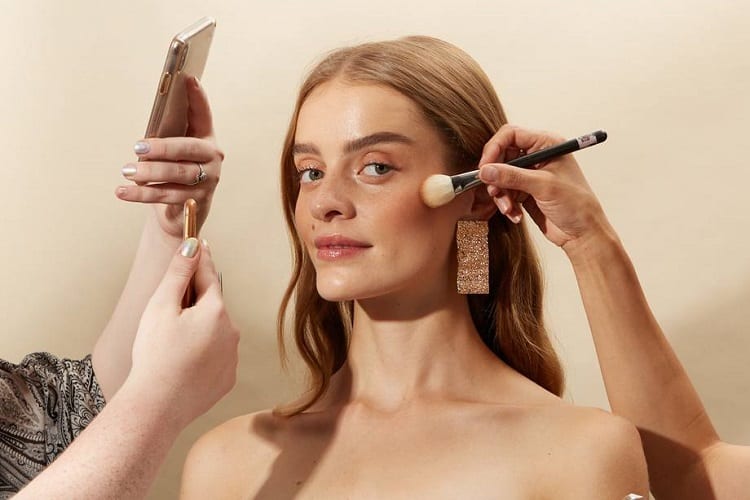 You can be pale without being ghostly white. The best bronzer for light medium skin is definitely a thicker cream-based bronzer that helps layer your skin in a protective coating. Anything else could be thin enough that it doesn't properly block UVA rays.
Part of the point of wearing bronzer for fair skin is keeping your skin heavily protected (without a heavy amount of makeup) so that it can slightly naturally tan while you're out of the house. This way, you get the bronze color you want right now, and avoid sunburns in the process.
How Do You Apply Bronzer Like a Pro?
Bronzer goes on after the rest of your makeup, but you want to put it on before blush. Begin applying it to your skin with a flat-top brush.
Apply bronzer in threes. No, seriously: paint it onto your face in brush strokes like you're painting the number three. This helps you spread it to all the areas you want to target, but without spending too much time in individual zones.
Begin blending. If your bronzer goes all the way down to your neck, make sure it blends into the natural tone of your skin.
And that's it. Applying your own bronzer is super simple, it just takes a bit of diligence to blend properly and get that flawless look.
Does Bronzer Look Good on Pale Skin?
Typically… no, it does not look good on pale skin – unless you know what you're doing! While that's a shame, it's not an end-all, be-all. You just have a much harder time matching bronzer to your skin.
Bronzer tends to become extremely prominent on fair skin. Even if you have the best matte bronzer for fair skin, you're not immune to embodying an orange glow like certain celebrities that we all know.
Your skin undertones will be a little harder to spot with pale skin, meaning that when you pair bronzers with it, you could wash yourself out. It will be very noticeable unless you use the right kind.
Is Bronzer the Same as Blush?
No, it is not the same as blush. The idea behind bronzer is to add a tan-gold color to your skin to give a natural sun kissed look. With blush, you're bringing lighter, brighter colors (such as pinks and blues) out from your undertones and making them prominent on top.
These can be used in tandem to provide unique and truly visually stunning results. Blush would typically go on top of bronzer, and if you mix them right, you could have a flawless look.
But there's a catch: since you're using two products that rely on skin tone matching, you have to do a lot more work making sure that they don't clash together.
The toughest part of using these two products together is making sure there's a cohesive element and that they don't stick out on their own. Remember, you want this to look like a natural bronze zeal to your skin and not synthetic in the slightest.
Why Does Some Bronzer Blot Up?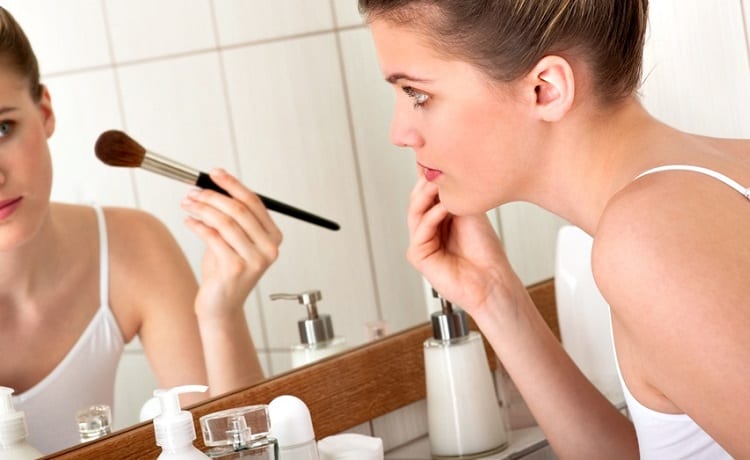 No two bronzers are created equal. If you've tried your hand at the dollar store bronzers just to get a feel for what you'll be using, we can tell you firsthand that it's not the same experience.
All across our faces, and for that matter, our entire bodies, we have extremely small white hairs. We usually only notice these on ourselves or by zooming into ultra high-res photographs of someone else, otherwise they're just ignored by the naked eye.
Well, with low-quality bronzer, you don't have a lot of spreading power. It clumps up and gets stuck on these hairs, and then begins to break apart instead of spreading evenly.
If you've ever looked at a freshly done face and thought "That looks smooth as can be," it's because bronzer (and other cosmetics) will actually hold those hairs down against your skin.
That ends up giving you the flawless look that everyone is after. Challenge yourself to apply one low-quality bronzer on your left cheek, and one of the bronzers from this list to your right.
Apart from the aesthetics, you can feel a difference on your skin. These bronzers are lighter and don't feel "cakey" on your pores.
How do I Know my Skin Tone?
Your skin tone is unlike anyone else's, and that's what makes it so difficult—finding a bronzer that actually matches your skin tone is pretty rough stuff!
If you want the best tanning bronzer for fair skin, you have to understand that the term is relative to your skin. We've done our best on this list to make sure that every bronzer has a wide range of skin types that they're applicable with, but none of them are going to be perfect.
You can look at the three major skin tones, and then some skin undertones to group yourself into a specific category. There, you'll be able to explore and experiment to find the perfect bronzer for your skin.
Light: Lighter skin tones tend to be very even, and very pale. If you've ever been described as pale or pasty, you would fit into the light skin tone category. This is common with northern European descent, such as Ireland and Scandinavia. Light skin tones are much more prone to burning in the sun and sustaining damage from UV rays.
Medium: Described as an olive or "naturally tan" skin tone, medium skin tones tend to derive from southern European and northern Asian descent. This means you're not going to burn horribly in the sun thanks to a natural amount of melanin that light skin tones don't have. It's a good blend of sun protection and natural bronzing, so you won't have to go heavy with products or precautions.
Dark: Dark skin tones are described as those from the Middle East, Africa, and India. If your skin tone matches those from these regions, it's likely a dark skin tone. This comes with a high level of melanin and natural UV protection, and in some instances, you might not even need bronzer to reach your desired coloration level.
Additionally, there are skin undertones that you should be aware of. These are harder to detect, but will make all the difference when you apply bronzer.
Warm: Yellowish, peach-colored and golden undertones are all grouped together in the warm undertone category. These can feel similar to pinkish hues in the cool undertone category, but there's a noticeable difference. You'll be able to go with bolder bronzers and cosmetics with these undertones.
Cool: Reddish and pink hues under your skin, as well as blues (visible veins) are all in the cool undertone category. These are best matched with similar colors and slightly different shades to give a layered effect.
Neutral: Do you have those blues and pinks, but you also have gold and that peachy rose-colored look as well? You could just be neutral, which is like having a combination of just about any undertone. That being said, it's unlikely that you'll have a combination of all the undertones, so you have to narrow them down to the best of your ability before buying bronzer.
Once you know your skin tone and skin undertone, the world is your oyster. It will immediately become easier to find a bronzer that matches with your skin tone and compliments it well.
Should You Apply Bronzer All Over Your Face?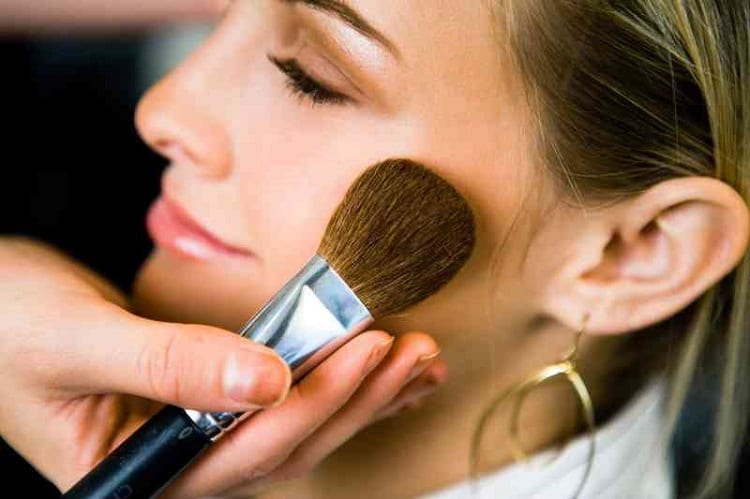 Absolutely not. Especially with fair skin, you're going to end up looking like a big ole brass statue. You want to avoid spreading bronzer all over your face. Instead, keep it to your cheeks and jawline to maintain a nice tan glow without going overboard.
Bronzer can and should also be applied to the forehead area and temples, but this is a person-by-person basis. You have to inspect yourself first and see if it would be too brassy, or if would be beneficial to your overall appearance.
Starting With the Best Bronzer
You know the best face bronzer for fair skin, you know the second-best pick and the alternatives, and now you have new brands to try out. Every skin type is different, but in our research and testing, these bronzers worked best for a multitude of fair skin ranges.
Start off with the best bronzer, and revisit us later if it isn't your ideal fit. Your fair skin is glorious, and you should feel nothing less than beautiful in your skin. With the right bronzer, you can highlight your best features that fair skin tends to hide.
---