You've already found the best foundation for your needs, but what's the next step?
Applying it. That foundation is useless without a proper brush to apply it with. Foundation brushes differ from the dozens of other cosmetic brushes out there for a few reasons, which we'll go over throughout this guide.
We've not only found good foundation brushes for good prices, but we've found the best foundation brushes for solid and liquid foundation, varying degrees of thickness, and with bristles that are sure to last for years to come. Let's take a look.
Best Foundation Brush – Reviews & Buying guide for 2021
Best Overall: NYX Professional Makeup Can't Stop Won't Stop Foundation Brush
Size: 6.94" x 0.89" x 0.89"
Material: Synthetic
Type: Foundation + multipurpose brush
You wanted a good foundation brush?
We found you a great one. NYX is one of the best foundation brush brands out there, hailed as a pro artistry brush with excellent precision.
This brush is as lightweight as you can get. With an ultralight handle, this is designed to be a one-swipe kind of brush. This weighs just 0.04 grams; it's like a feather in your hand.
Just like with any professional, top-tier foundation brush, you're dealing with synthetic bristles here. There's a total of ten varying types of the NYX brush, although for the price, weight, and number of bristles, this is your best pick.
Why did this brush hit the top of our list?
It's good for liquid foundation as well as solid. However, you should avoid using creams on it since the bristles can stick together and cake, kind of like a paint brush after being left out.
As a last testament of power, the NYX professional makeup brush is good to use with TCA peels and chemical peels. It must be used gently, but as long as you get a dedicated brush for the task, you can use one for it.
Inexpensive, effective, and accurate – NYX provides one of the best bruises out there hands-down.
Runner Up: Tarte Cosmetics "The Buffer" Foundation Brush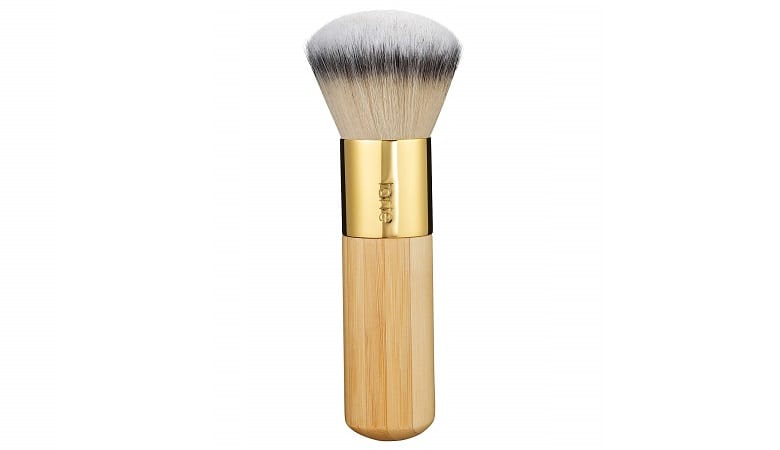 Size: 1.73" x 12.76" x 7.32"
Material: Synthetic
Type: Foundation brush only
Do you need the best foundation brush for liquid?
It's a tight tie between NYX and this Tarte Cosmetics bamboo handle brush.
This is a luxury brush. If you truly enjoy the process of applying foundation like many of us do, you'll like the heavier weight and wider bristles that Tarte Cosmetics offers.
Because the handle is made out of bamboo, the wood itself is fairly lightweight, but compared to cheap plastic handles it's a step up.
Overall, this is 0.15 pounds, and the metal clasp around the top end of the brush maintains its sheen and looks great on your vanity or displayed in a cabinet when not in use.
So what's so special about this brush?
The base of the bandle is rounded, and the handle itself is wide to offer various angles to grip this from. Mix that with the plush pillow of bristles that you get to deal with, and you'll be applying liquid foundation in a clear, clean layer with a single swipe.
The goal of this brush is a dewey effect. Because of the bristles and how much liquid or powder foundation you can load up onto it, it stifles as it travels across your skin with a gorgeous effect left in its wake.
Alternative: EcoTools Wonder Cover Complexion Brush
Size: 2.81" x 1.13" x 8.50"
Material: Synthetic (aluminum brush portion and bamboo)
Type: Foundation brush only
Blending is a trick that some of us can't seem to master. At least, not the way that we want to. EcoTools understands the struggle, which is why they made this wide angle brush.
As the best foundation blending brush on our list, you can use the Wonder Cover Complexion foundation brush regardless of how skilled you are with brushes in the first place.
The wooden handle begins with a small rounded tip (does not stand up on its own), and widens up to the metal brush guard.
The fantastic thing about EcoTools?
The brush has over 100,000 bristles, and it's actually cheaper than the other two foundation brushes we've shown you so far.
EcoTools is a quality brand. They focus on 20% cotton and 80% bamboo fibers to make up most of the brush, and safe synthetic bristles to not agitate your skin. The metal brush guard is made from recycled aluminum, so they're really staying true to the "Eco" in their name.
Last but not least, this brush is built to last. Oftentimes we buy items that are made from recycled materials for a high markup, and then they don't last. EcoTools is the opposite of that stereotype: they could be the last brush brand you ever buy.
Alternative: EKAKER Flawless Foundation Makeup Hexagon Brush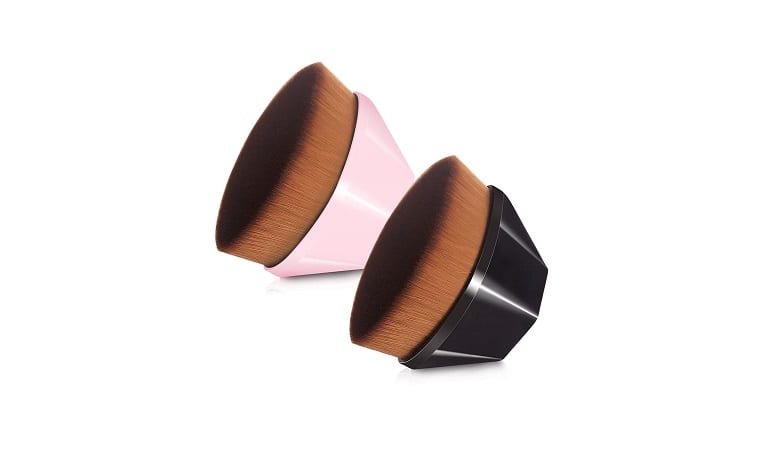 Size: 3.1" x 1.6" x 2.0"
Material: Synthetic
Type: Foundation brush only
Not settled on a single brush?
You don't have to choose just one. Ekaker has a two-piece kit that comes with hybrid brushes that can be used for either liquid or powder foundation. The trade-off here is that the bristles are short, so you should definitely dedicate one per foundation type.
But the good news is that you don't have to spend time finely cleaning tens of thousands of bristles to remove liquid foundation before using your powdered foundation. With soft, synthetic bristles, these hexagon-shaped
You don't just get one, but two top rated foundation brush units in a single package. With petal-shaped grips, you'll have full control over all 200,000 bristles.
Ekaker does what they can to make sure that number is accurate, although it's in the ballpark of 190,000 to 200,000 (either way, that's a lot more than most brushes). This makes for ultra smooth applications regardless of what type of foundation you're using.
The price sounds too good to be true, and there definitely are some trade-offs, but these are perfect middle-of-the-road brushes for anyone that wants a mix of power and performance. Ekaker did a fantastic job with the handle grips, bristle count, and everything in between.
Alternative: Real Techniques Miracle Body Complexion Sponge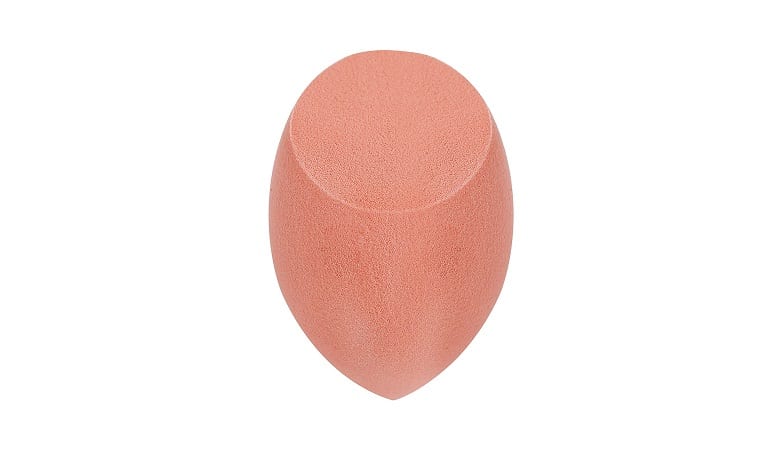 Size: 3.10" x 2.08" x 6.94"
Material: Synthetic
Type: Foundation + multipurpose brush
It's the best foundation brush for full coverage, but it's not much of a brush, now is it?
Real Techniques has this egg-shaped sponge brush that doesn't really count as a foundation brush, because it can be used as a multifaceted cosmetic brush. It's not limited to just foundation.
The end of the egg-shaped sponge brush is soft and absorptive to the touch, but still doesn't soak up too much of your cosmetics. When applying liquid foundation to it, you'll notice that it creates this perfect little pillow on top without messing with the fibers of the sponge.
So where's the trade-off here?
Considering the fact that Real Techniques is one of the cheapest options on this list, it has to have some negatives. The fabric that makes up the sponge-like top of the brush is durable… at first. Washing this off to use a different product with it might incur some issues.
The fabric isn't ultra strong. It appears as though Real Techniques favors methods of manufacturing that do not result in cruelty to animals—which is definitely good—but it might mean that they didn't test these properly with an alternative method.
The fabric is known to rip, so you have to be ultra careful when you go to clean this. If you're getting one of these for liquid foundation, dedicate it to foundation only.
Use a separate egg-shaped brush for other cosmetics, and you shouldn't run into this issue. It's just a trade-off for the price and ease of use (especially since this is the only brush on this list that stands on its own).
Foundation Brush FAQ
What Makeup Brush Should I Use for Liquid Foundation?
The best foundation brush for dry skin, oily skin, or whatever type of skin you have may not rely on the key features you're thinking about. In fact, if you want specific application styles, you need to know about the different types of foundation brushes.
Flat-Top
Flat-top brushes have two variants, one of which is more like a miniature paint brush for your cosmetics. These are great if you're just using foundation as an accent or to lift, since you can designate which area you want to use it on.
Flat-tops are better for precision and preserving your foundation. You don't have to soak a sponge tip or get a ton of bristles dotted with foundation to use it; it's for steady hands.
Sponge Brush
We've seen this in the fifth pick for this list. If you don't want the perfect angelic look (because let's be honest, sometimes it can look fake), you can use a sponge brush to apply your liquid foundation.
This creates a texture very similar to your own skin, so you don't look like you just walked out of a salon. It embodies a more natural, refined look without going over the top. These can be difficult to keep clean, though.
Dual-Fiber
This is a fairly common type of foundation brush. It's called dual-fiber because typically, you'll have one color of fiber along the bottom of the brush (where the bristles connect to the handle), and the tips of the bristles will be a different color.
Dual-fiber brushes can come in oval to oblong shapes depending on what face shape it's trying to mimic.
Full-Bodied Brush
These have long handles, small diameters where the bristle ends meet, and are generally used for thicker powder application.
However, using them for foundation could be extremely useful if you really care about that airbrushed finish. You need to apply quite a bit of pressure here, but all that means is you'll be able to control the way the finish looks on your skin.
You can use any of the following for liquid foundation. Keep in mind that sponges produce a more skin-like look, while dual-fiber and flat-tops are going to help you apply foundation in a smoother, more even layer.
Is it Better to Apply Liquid Foundation With a Brush?
The best liquid foundation brush is whatever you make of it. You can use flat-tops, you can use sponges, or anything you like. That being said, just because you can get amazing results with a flat-top or full-bodied brush doesn't mean it's the easiest or best way.
Most liquid foundation should be applied with a sponge brush. This ensures a nice natural look that goes with the grooves and texture of your skin.
Sponge brushes can be difficult to maintain and clean, though. As we've seen with the Real Techniques brush on this list, the fabric that makes up the sponge can be prone to breakage.
If you are going to use a sponge brush to apply liquid foundation, make sure that it's a dedicated brush. Don't use it for other cosmetics.
What About Cream Foundation?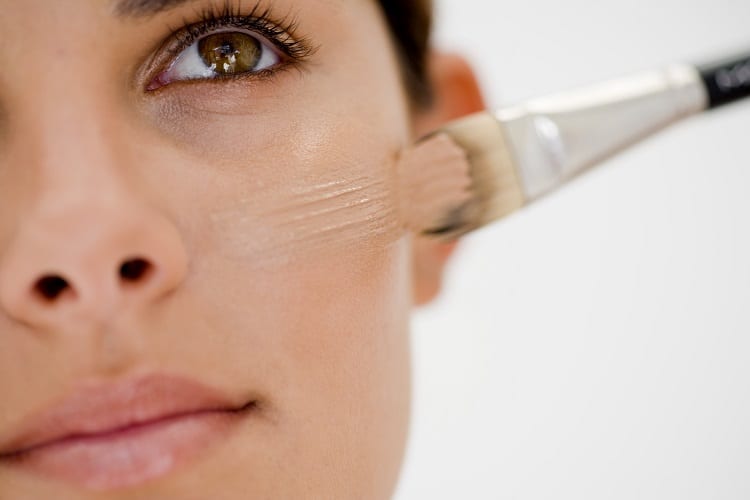 It's the opposite rule with cream foundation: try to avoid using a sponge brush here. This is where flat-tops and full-bodied brushes are really going to shine.
Because cream foundation is heavier, it needs to rest on those bristles to be applied evenly. On a sponge brush, it just clots together and makes a mess, and rarely—if ever—applies evenly to your skin.
What is the Best Way to Apply Foundation?
Even if you start out with the perfect foundation brush, you can still run into a bit of a problem when it comes to actually implementing it properly. To apply it, follow this brief yet effective guide.
Using an egg-shaped sponge brush is often referred to as the best way to apply foundation. It gives a natural look. You can use whatever brush type you want and reach similar effects. Wet the sponge, dip it into your foundation.
Begin applying to your skin, but move from inside areas and work outward. That means the center of your cheek is where you should start, and begin using swirling motions spreading outward to evenly apply your foundation.
Strike upwards, not side to side. Our faces are longer than they are wide, and that's a good thing. Apply your foundation in upward strokes to the top of your forehead. Apply in downward strokes from the center of your face towards the chin, then pause.
Follow your natural chin line. Use foundation to make slight horizontal movements that follow your jaw. This gives better jaw definition, and brings attraction to your entire ensemble, not just your makeup game.
Keep calm and leave it be. Foundation has to set, and if you don't let it set, then it's not going to look the way that you want it to. Not by a long shot.
Blend everything together. You can do this with a finishing powder and a larger diameter brush, or you can simply use your finger to blend it all together.
How Do I Make my Foundation Look Flawless?
If there were just one simple way, every one of us would have mastered it by now. The truth is, there's a volley of ways you can apply foundation and make it look like it was painted onto your face by Michaelangelo himself.
Opt for Liquid: Cream foundations generally don't hold up as well as liquid foundation does. You can get a more natural sheen and flawless look with liquid foundation. While cream foundations have their place, most of the time they just end up being noticeable. To look flawless, you have to look like you didn't even apply makeup in the first place.
Combine: One single foundation may not be right for you. There's over eight billion people on this planet, and no makeup creators can make shades that match all of those skin tones. If you feel like you fall somewhere in between two pre-made skin tones for foundation, then just get them both and combine them. Either way, you'll go through the same amount of product, but this will be custom tailored to your skin tone for that flawless look.
Prime Your Skin: Make sure you clean your skin thoroughly, but not excessively. You don't want to hurt yourself. Exfoliate your skin, and add a moisturizer while your skin is still moist. This will lock in hydration, and your foundation can also act to lock it in place when it rests on top of your skin.
Use the Right Brush: As we expressed earlier, there are different types of foundation brushes. Each is going to have their own uses, so be sure to select something that truly fits your needs and the aesthetic style that you're going for.
Less is More: To look flawless, you have to look natural, like you aren't wearing foundation in the first place. To do that, always go for the rule of less is more. You can very easily overdo it on foundation, and that's when you get droplets, thick layers that can shift or move with facial expressions, and more.
Stop It, I'm Blushing: You can use a very little amount of blush underneath your foundation to give a bit of a natural glow to your look. Have a light hand with this, though, otherwise you'll look like you have a fever.
Conceal: Concealers actually look fantastic on top of foundation. You can apply concealer over foundation to have it meld into your skin better, and really match your even tone.
Can I Use a Powder Brush to Apply Liquid Foundation?
Yes you can, but there are a few things you need to think about first before you decide to do that. There's a reason that these foundation brushes all follow an unspoken agreement about handle length and head diameter.
Bristle Count: A low amount of bristles with a large diameter means that the liquid foundation is going to seep in between those bristles and cake onto them. They may drip all the way down to the base of the bristles and bend some of them in the process. You need a dense, high bristle count powder brush if you have any hopes of using it for liquid foundation and not ruining the brush in the process.
Small Diameter: Imagine a large powder brush, and you casually move it with liquid foundation on the ends of the bristles. With a wide head, that liquid foundation is going to go flying like a glob of paint, wasting product and creating a mess. With smaller heads, there's less wiggle room and room for error. You want smaller brushes with high bristle counts.
Shorter Handles: Some powder brushes have long, delicate handles. Ideally, you want a short handle so you can properly exert the right amount of force while applying liquid foundation. Avoid ornate, over-the-top powder brushes for liquid foundation when available.
In short, make sure you're not going to regret using the brush. Dense bristles, short handles, small diameter on the head—that's what you need to know.
Better Foundation Application 24/7
You need the right tools for the job. As you've seen in our guide, there are more brush types that most of us even know what to do with, and so many ways that you can use your foundation creatively.
Getting the best foundation is good, but without the right brush to apply it with, you're up the creek without a paddle.
These brushes are simple, yet effective and long-lasting based on the brand, durability, and the materials they use. Be sure to check out our other guides on cosmetics and cosmetic tools just like these.
---