Tanning outdoors is an entirely different experience from tanning indoors.
There are UVA and UVB rays to worry about (and the ironic thing is you need UVB to actually get a tan), the conditions, and whether or not you can tan all of you, if you know what I mean.
To get the best possible tan while outdoors, you need the best lotion to help; expedite the melanin transformation in your skin.
You need lotion that protects you, keeps your skin from burning, and actually delivers results. That's what we've found for you today on this list.
Best Outdoor Tanning Lotion – Reviews & Buying guide for 2021
Best Overall: Hawaiian Tropic Dark Tanning Oil
Size: 8 oz
Type: Normal Skin
Ingredients: Mineral oil, coconut oil, papaya, mango, theobroma cacao, eucalyptus leaf oil, and more
UV Protection?: Yes
Hawaiian Tropic is known by just about everyone. It's the sun tan lotion that you have to try if you truly want to get a darker skin tone just by tanning. As the best outdoor tanning lotion to get dark fast, it includes ingredients that your skin is craving right now while you read this.
Vitamins E, A, and C are all necessary to nourish your skin and lock in hydration. But more importantly, they also help protect your skin from UVA damage and fight free radicals.
That means those sweet, sweet UVB rays can shine on through, tan your skin, and you'll be able to bask in the results. These vitamins are crucial to a successful outdoor tanning session.
It wouldn't be the best outdoor dark tanning lotion without a true Hawaiian Tropic scent, now would it?
Their tenure schtick is bringing you to paradise, whether it's in sun tan lotion or any of their other products, and they do a fantastic job at that. This lotion comes with their mineral oil and coconut fragrance that smells as natural as you're going to get.
There's a bit of a mix-up here, though, because Hawaiian Tropic's dark tanning oil is marketed to sensitive skin on one page, and normal skin on another. From what we've gathered, using this on sensitive skin could have some issues if you aren't used to tanning outdoors. That being said, every other skin type is in the clear.
Eight ounces of suntan lotion, but at what cost?
Hawaiian Tropic isn't the cheapest out there, but it is certainly one of the most effective. With skin conditioners, antioxidants, and oxybenzone sunscreen, this works well to help you develop a darker color in no time.
The only issue is the word "sunscreen", because this actually doesn't have an SPF rating at all, so we're not even sure what they mean by calling it sunscreen in the first place.
You absolutely need to use a type of sunscreen underneath this to get some layer of SPF protection (30 is recommended for outdoor tanning). However, based solely on its ability to help you get a dark, gorgeous tan, Hawaiian Tropic takes the cake.
Runner Up: Hempz Dark Tan Maximizer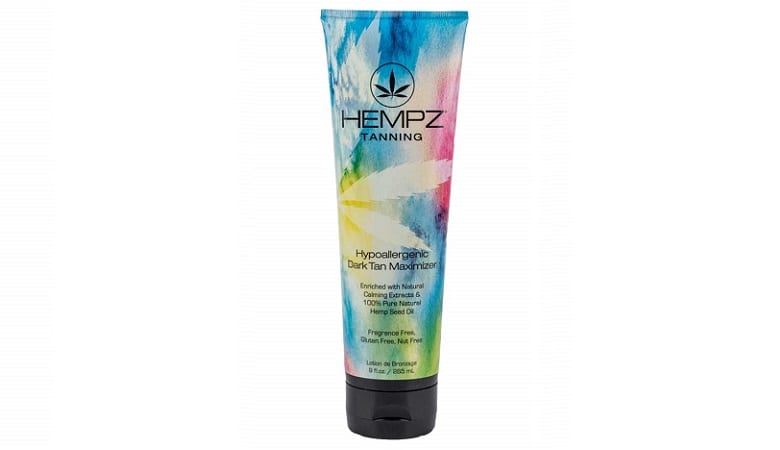 Size: 9 oz
Type: Sensitive Skin
Ingredients: Oatmeal, hemp seed oil
UV Protection?: No
Now here's an interesting outdoor tanning lotion. Hempz wanted to design a sensitive skin-safe tanning lotion, and that's exactly what they've done here.
As the second best tanning lotion outdoor tanners will love, Hempz uses the finest ingredients to make sure you're left feeling enriched by the sun.
With active ingredients such as oatmeal and hemp seed oil (the latter isn't one that you often see in skin care products), your skin is nourished from the second you lather this on. With such attention to detail, Hempz also pays attention to what they don't put in.
This is paraben-free, gluten-free, and made in a completely nut-free facility.
That last part is important for allergy sufferers, because various tree nut oil is rampant in sunscreens and tanning lotions. On top of that, it's THC-free (guaranteed), and 100% Vegan. It's truly a brand that you can be excited about getting behind.
The best outdoor tanning lotion wouldn't be complete without a fragrance. Unfortunately for Hempz, this is the one area they really struggled with. There isn't much of an aroma at all.
Normally, you'd get a little whiff of something from a far away paradise in your suntan lotion, but this is a bit bland.
At the end of the day it's about getting the tan though, right?
Hempz is designed for sensitive skin with its non-greasy formula. After trying it ourselves, we will say that it feels like a greasy cream in your hands, but once it's applied to your skin it soaks right in with no sticky or gross residue behind.
Hempz is a lightweight tanning lotion. You won't feel heavy or weighed down from using it, and on top of that, you'll be able to feel good about tanning knowing that nature's ingredients are layered across your skin.
Alternative: Ocean Potion Dark Tanning Intensifier Lotion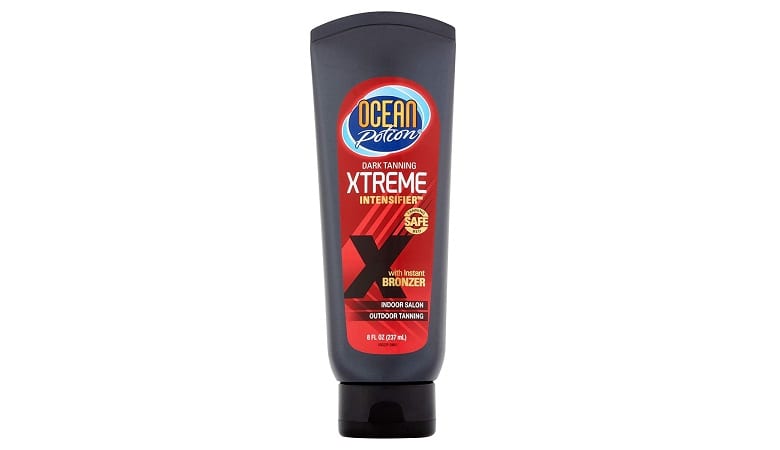 Size: 8 oz
Type: Normal Skin
Ingredients: Aloe vera
UV Protection?: No
They could have done something better with the bottles that they sell this in, but at the end of the day, it's all about the tan that it can provide you.
Ocean Potion is all about outdoor tanning at the beach, in case you couldn't tell. This claims to be a hybrid for indoor tanning bed use as well as outdoor use, but it's a lot harder to be a hybrid in this space than you think it is.
Personally, we wouldn't use this for indoor tanning. Its quality is in outdoor tanning, and it's one of the best outdoor tanning lotions with bronzer that you can find. There's no "200x intensifier" gimmick here: they only claim what they can actually do for your skin.
With the presence of ingredients such as aloe vera, vitamin A, C, and E, as well as tea oil, you get a nice coating on your skin that provides excellent coverage.
You'll feel this tingling upon first contact, but after ten to twenty seconds, that tends to go away. It's a potent formula, so your skin will react.
Speaking of which – this isn't something that sensitive skin types can really use. While there are nourishing ingredients here, the bronzer is pretty harsh and can cause irritation depending on your skin type. Normal and dry skin types will benefit from this the best.
While we wouldn't say this is the best outdoor tanning lotion for pale skin, it's still viable to use for fair skin as long as you know what you're doing. If you've never been tanning before and you have pale skin, you should start with something a little lighter.
Alternative: Devoted Creations CAMO KING Black Bronzing Lotion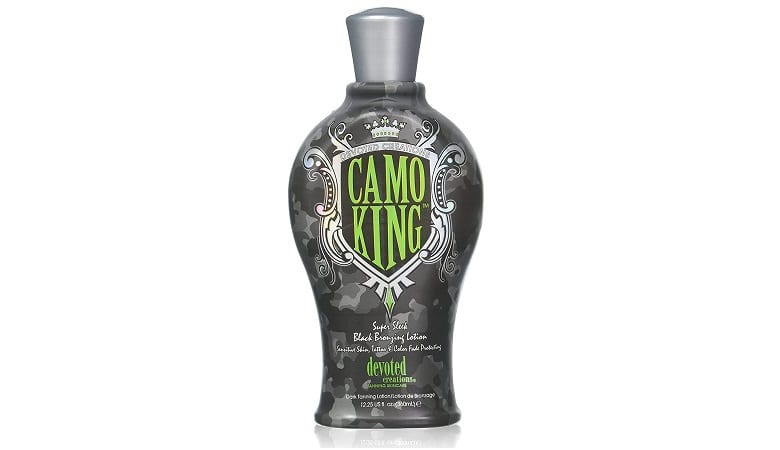 Size: 12.25 oz
Type: All Skin Types
Ingredients: Aloe barbadensis, cetearyl alcohol, PPG-20, garcinia peel extract, glycerin, coffee arabica seed extract, and more
UV Protection?: No
Getting a solid tan outdoors shouldn't be a huge chore. Devoted Creations makes the task a little bit easier with CAMO KING, their black skin bronzing lotion.
This advanced formula is the best outdoor sun tanning lotion for dark and black skin, helping you get a crisper color and deeper dark tone to your skin.
If you're looking for the best tanning lotion for pale skin outdoors, Devoted Creations isn't it – this is a dark, high bronzer tanning lotion, and it's strong as can be.
Because of the harsher elements in this, they've added a beauty balm cream to help balance things out and make sure it's not too rough on your skin.
What does a good tanning lotion need to provide in order to work properly?
That's right: antioxidants! Devoted Creations is fitted with a dark DHA formula that's ripe with antioxidants to help your skin in every way imaginable.
But now, we have to talk about some claims. Devoted Creations says that this has an anti-aging effect on the skin, as well as firming benefits.
From what we've been able to find in the ingredients, it's not anti-aging, although the skin firming benefits are clearly there. If that's what they tried to say by anti-aging, they should have just said it.
There are a lot of proprietary blends in here, such as Freshtek. It says to provide a deodorizing and freshening aspect to this tanning lotion, but depending on how long you use it, a bit of funk from the sweat you produce while tanning is bound to happen regardless.
It works in the short-term, but you will absolutely still need to freshen yourself up afterwards.
Other proprietary blends include Revite Fit, Intenslim, and Melanobronze. Nestled in with those, there's a tattoo fade protector element, so even if you get stark white tattoos against dark skin, they won't fade out or blend into underlying melanin.
Overall, this is one of the most complex tanning lotions out there, and it does its job well.
Alternative: Maui Babe Browning Lotion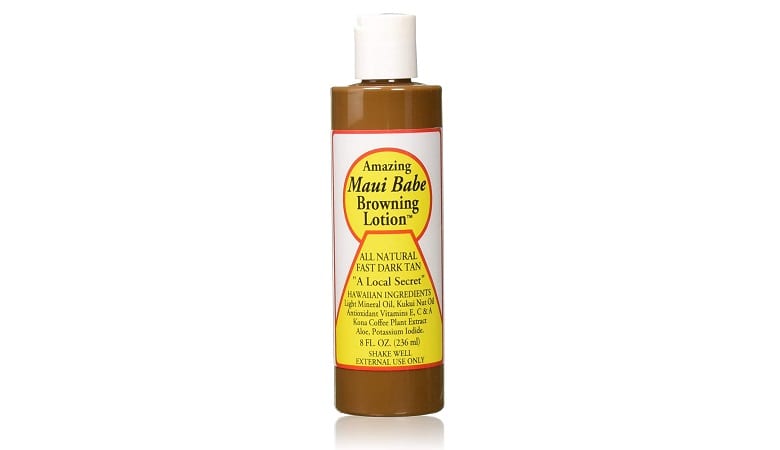 Size: 8 oz
Type: All Skin Types
Ingredients: Light mineral oil, vitamin C, C, and A, Kona coffee extract, and more
UV Protection?: No
Last but not least, we have Maui Babe. They don't get points for packaging, because this looks like it was pulled from a copy shop out of 1982, but the product inside is what counts.
You get two in a pack, totalling sixteen ounces. The price is fair among the other tanning lotions we've seen here, but there is something you should know about that price: it doesn't include UV protection.
To be fair, only one of the five tanning lotions on this list actually have integrated UV protection, but it's still something important to know.
As the best tanning lotion for fair skin outdoors, you get a low, light level of skin browning that gives you that crisp glow of "I just returned from a Hawaiian vacation."
This lotion is actually imported from Maui, Hawaii as well, so you're getting products that people actually purchase over there and use on vacation. Hey, it may not be a five-star resort, but it's a nice little slice of paradise, right?
This best tanning lotion to get dark fast outdoor formula comes with built-in bronzer, and is safe for all skin types. If you have skin, Maui Babe can make you look sun kissed or darken that beautiful ebony hide with absolutely no restrictions.
This formula is also waterproof, so you can hop into the pool and splash around a bit without worrying. Maui Babe sinks into your skin immediately, so you aren't left with a slick, oily feeling on the top layer of your epidermis.
Outdoor Tanning Lotion FAQ
Can You Use Tanning Lotion Outside?
You can use outdoor tanning lotion inside, and you can use indoor tanning lotion outside. It's not going to magically not work, because you're still using it to filter UVB rays and block UVA rays either way.
The main difference here is intensity. A tanning bed can be controlled, but the outdoor conditions, as you know, can change from hour to hour.
You can use tanning lotion outside, but you have to make sure there is some level of sun protection included. SPF 30 is usually the bottom line for where you want to go, although that depends on your level of exposure and how long you intend to sit under the sun.
On top of that, you generally want some level of water resistance for outdoor tanning lotion. If you decide to dip yourself into the pool or you begin to sweat excessively, it could spell a certain doom for your tanning lotion.
If you can find an all-in-one tanning lotion (ahem, some of which are on this list) that includes SPF protection and still allows UVB rays to shine through and tan your skin, then you should be able to use it indoors and outdoors.
Can You Tan When It's Cloudy?
Surprisingly, you can still get a fantastic tan when it's cloudy out. It may not feel like it, but the sun's rays are still pouring in. In fact, as many as 90% of the sun's rays could still be coming through those clouds.
Clouds may act like a filter. You could endure less UVA rays, but the UVB rays are minimally impacted. Ever wonder why you can still see almost perfectly on super cloudy days? It's not comparable to nighttime, because sunlight is so strong that it filters through the water vapor in the clouds and air.
Now, if you're looking at storm clouds, that's a different story. Black thunderclouds hanging overhead may block out a ton of light, which you can notice fairly easily. Still, in standard cloudy conditions, you can use tanning lotion to get that golden brown, it might just take longer. Use these tips to tan if it's cloudy.
Look for Breaks: A break in the cloudiness is still going to be better than tanning under the clouds, so you should try to find a spot that fits this. While this can be tricky, it should be your first step when tanning outdoors during cloudy weather.
Early or Late: Don't tan during midday. The sun is directly overhead, but that could actually serve as a problem. When the sun is angled (anytime before 10:00 AM and after 4:00 PM), it cuts through the clouds better and the rays are more noticeable.
Use Tanning Lotion: Even if it's cloudy out, make sure you're using sun tan lotion. It may feel silly putting it on when it's cloudy out, but it will make a difference.
What Time of Day is Best for Tanning?
Many people assume that you want the sun to be out and high in the sky to tan properly. However, this isn't the case.
You want to avoid certain times of the day to mitigate your risk of sunburn and skin damage. This is a fast-and-hard time table you should stick to for tanning (depending on the season).
6:00 AM – 8:00 AM: There's no need to start tanning now; the sun isn't out enough yet.
8:00 AM – 11:00 AM: Ideally the best time to tan during any given day.
11:00 AM – 3:00 PM: The sun is too high; sunburn risks increase. Do not tan during this time.
3:00 PM – 5:00 PM: Good time for tanning, though the sun is losing strength during the day, so results may take longer.
5:00 PM – 8:00 PM: This is exclusive to summer. Some tanning may occur during this time depending on the daily sunset time, but with mitigated tanning power.
Early morning to midmorning is going to be your best time of day no matter what. This has the lowest risk of burning up and damaging your skin with UV rays, and plenty of tanning power.
How Long Should I Lay Out to Get a Tan?
It depends on more than just the minutes you spend outside. How fair is your skin? What season is it? Are you using lotion? There are a lot of variables to consider.
For fair skin, these numbers should be cut in half at first. You want to gradually work your way up to longer tanning times to avoid serious sunburns and skin peeling.
Assuming that you are using at least SPF 30 and tanning during spring and summer, this is how long you should stay out to get a tan.
Day 1 – Day 3: For the first three days, you should limit your tanning to fifteen minutes at a time. This gives your skin a base tan. Basically, it begins the process of your melanin turning the pigments in your skin.
Day 4 – Day 7: Increase your time from fifteen minutes up to twenty minutes, but no more than twenty-five minutes. Keep in mind that you might not see a tan right away from the first three days.
Day 8 – Day 14: No more than thirty minutes per day. If possible, stick to twenty to twenty-five minutes per day and build that base tan.
Day 15 – Day 30: Thirty to thirty-five minutes is good here. After a month or so, you should have enough of a noticeable tan that you can proceed at your own advisory. Keep in mind that your skin plateaus and can no longer tan after a certain amount of time.
It's important to note that like anything, good things come to those who wait. You start putting in an effort, but you aren't going to see the results for quite some time. It can take a full week or two to start really seeing your tan, so keep at it (safely) and you'll see the fruits of your labor before too long.
Is Indoor Tanning Faster or Better Than Outdoor Tanning?
The only benefit to indoor tanning is consistency. It's a UV light powered machine that offers consistent results, but that doesn't mean that they're better for what you want.
You can tell when someone has been tanned in a tanning bed versus being kissed by the sun. There's a very synthetic look to it (depending on what lotions they use), which is why indoor tanning actually requires a lot of skill to do properly.
If you're not completely sold on tanning outdoors, you could always try taking a look at this guide to the best indoor tanning lotions, and then give it a shot.
Outdoor Tanning Done Right
If you're hell-bent on tanning outside, that's okay; it can have a more natural sunkissed look as opposed to tanning indoors. Be sure that you have the proper tanning lotion to help get that desired color you want.
Remember that there's a peak to how much you can withstand in the sun, and after that point you stop tanning. Using sun tan lotion helps you get better coloration without staying under the sun for too long; you've got nothing to lose by trying out one or two new lotions to get that perfect tan.
---