Everybody wants firmer skin, or at least for their skin to stay firm as they get older.
At one point it feels like the years are coming twice as fast when it comes to your skin, but skin firming lotion is your best defense.
We've selected the top five best skin firming lotions so that you can maintain that elasticity, that beauty that you've worked so hard to maintain. Consider skin firming lotion to be like a protector that can also add elasticity back to your skin if you use it consistently.
Best Skin Firming Lotion – Reviews & Buying guide for 2021
Best Overall: Sol De Janeiro Brazilian Bum Bum Cream
Size: 240 ml
Ingredients: Phenyl trimethicone, dodecane, coconut oil, acai fruit oil, sativa seed oil, and more
Scent: Pistachio and salted caramel
As the best skin firming cream on our list, the Brazilian Bum Bum Cream has a lot of explaining to do. Brazil is known for its luscious beaches, and on those beaches tend to be luscious women.
If you haven't noticed, this country (hailed for making butt implants) is crazy about the tushy, and this cream exemplifies what they want for it: tighter, firmer skin.
This non-greasy formula is intended to be applied directly to your body and absorb quickly. The mixture does feel a little greasy in your hands, but once it makes contact with your skin, there's no sticky residue or oily feeling that you have to worry about.
If you weren't aware, caffeine is good for your skin when it makes direct contact. This included caffeine-rich guarana extract that immediately tightens up those pores, and to top it all off, the entire mixture visibly tightens the appearance of your skin almost immediately.
Ironically, it's also the best skin firming lotion for stomach areas and your arms as well. It's not just about what you're packing in the trunk. This can be a long-term solution, although it does come at a cost.
This is one of the most expensive skin firming lotions on our list. Keep in mind that it comes with 240 ml, which is a generous amount when you compare it to the other lotions on our list, but it's still a bigger upfront cost to get started with Sol De Janeiro.
The results are wide-spread and can be found everywhere – this is the skin tightening cream for your entire body, and it works a treat in little to no time at all.
Runner Up: Olay Regenerist Cream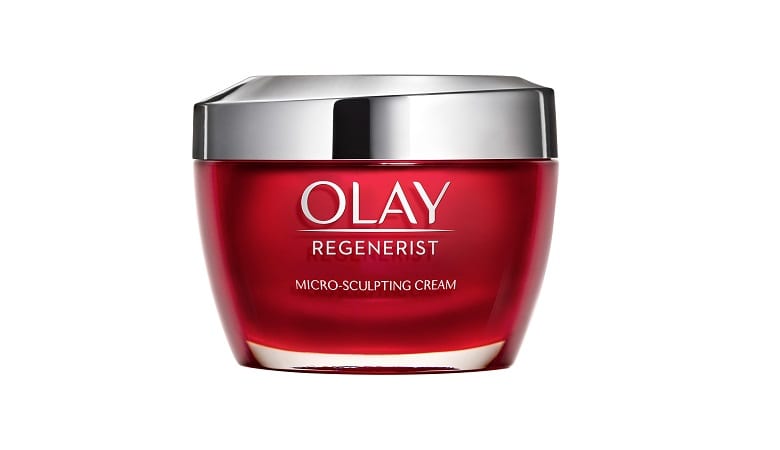 Size: 1.7 oz
Ingredients: PEG-7 olive oil, palmitic acid, glycerin, Niacinamide, glycol distearate, and more
Scent: Fragrance free
We all know Olay. They're one of the oldest names in the game, and they're perhaps best-known for the Regenerist lineup. There's a lot to this specific firming lotion, so let's get to it.
First of all, what makes this one of the best skin firming lotion for cellulite is the way it immediate lifts skin after use. It's a small, but noticeable change that you have to pay attention to see, but once you get in the rhythm of using this the results will be more prominent.
Often hailed as the best skin firming lotion for weight loss, Olay Regenerist uses some of the best high-quality ingredients to ensure your skin—whether it's on your legs, arms, face, or stomach – will be able to rise up and look as close to flawless as possible.
What really draws people to Olay Regenerist is their promise of day-one results. We can say that the results are noticeable, but once you're about seven days in (where our testing ended), you can seriously notice a difference in the firmness of your skin. It's worth taking a before and after photo for sure.
You get a total of 1.7 ounces of cream in this container, and per ounce, it's one of the most expensive skin firming lotions that you'll find on this list.
According to their own marketing material, the goal here is maximized moisture and a "Super Charged" look. While we recommend Olay Regenerist cream, it doesn't provide as much skin moisture as they would have you think.
You should still be using a moisturizer in conjunction with this skin firming cream. Ideally, you can do this once per day.
These powerful ingredients are designed to lift your skin right away, firm out wrinkles and sagging skin, and make noticeable difference. We'd say that they definitely deliver on that promise.
Alternative: Ahava Firming Body Cream
Size: 6.8 oz
Ingredients: PEG-100 stearate, aloe leaf juice, avocado oil, almond oil, and more
Scent: Nutty
In our quest to find the best skin firming lotions, we didn't want you sensitive skin types to get left behind. When you're firming up your skin, it could be because of damage or crepey skin, and that stuff quite literally hurts.
Having a sensitive skin type on top of that is just the icing on the cake. Ahava is, by far, one of the best brands for staying sensitive on your skin and not introducing aggressive irritants that result in inflammation.
With ingredients like aloe leaf juice and avocado oil, they do what they can to keep ingredients as close to nature as possible. You also get almond oil and dead sea water, all wrapped up in a formula that really soothes sensitive skin types.
So what makes it the best skin firming lotion for body use?
The speed. We all want to see results fast, and the impatience can be a bit of a bugger. Thankfully, Ahava's formula gives you an immediately noticeable lift to your skin. After about one week of consistent day-in and day-out use, you'll see larger improvements that you can quantify.
One area that Ahava really shines in is sagging skin. We're talking about loose skin from weight loss, as well as aging skin that just doesn't have that bounce to it.
Ahava's ingredients lift this type of skin in little to no time, all without requiring you to deeply massage it into your skin. Instead, your application process is rather quick and doesn't tug on your skin at all.
Where's the catch?
Ahava isn't cheap. You get 6.8 ounces, but you're paying quite a bit for it. Compared to Sol De Janeiro on the top of our list, you're paying more per ounce, but the results are definitely noticeable and different. This is just another top-tier skin firming lotion that has a high barrier to entry.
Alternative: Palmer's Cocoa Butter Formula
Size: 10.6 oz
Ingredients: Vitamin E, mineral oil, stearic acid, cetyl alcohol, theobroma cacao extract, lecithin, and more
Scent: Cocoa
Palmer's may be one of the most iconic lotion brands in the United States, and for good reason: they tend to work the best for multiple different skin types. As a matter of fact, that's what they've done with this top rated skin firming lotion as well.
This firming butter is designed to be nourishing to your skin, and hit it with a scent of cocoa at the same time. It's like you're walking out of the tropics and you smell like the forest.
Palmer's is set at a very low price for 10.6 ounces, and when you compare that to what you're getting with brands like Olay, you have to be wondering what that's all about.
Palmer's isn't vegan-friendly, we do not know about cruelty-free standards with what they make, and we're unaware as to how they source their products.
Basically, what we're saying is that they're an older brand with older practices, and have been purchasing the same materials from vendors for years (most likely). They're able to price their products this low because it's what they're known for.
Palmer's may not be the best skin firming lotion after weight loss, but it's enough to tighten skin around your entire body in a small way.
With ingredients such as vitamin E, stearic acid, and cocoa extract, you're getting a blend of chemical ingredients and natural ingredients. It's just the trade-off of getting firmer skin on this low price bracket.
You aren't going to see results as quickly as you would with some other firming lotions, but that being said, you're still going to see results.
After one to two weeks, there will be noticeable lifting in your problem areas. We would hope that Palmer's could upgrade the slightly greasy-feeling formula, but for the cost, you can't really complain about it.
Alternative: Nivea Skin Firming & Toning Body Cream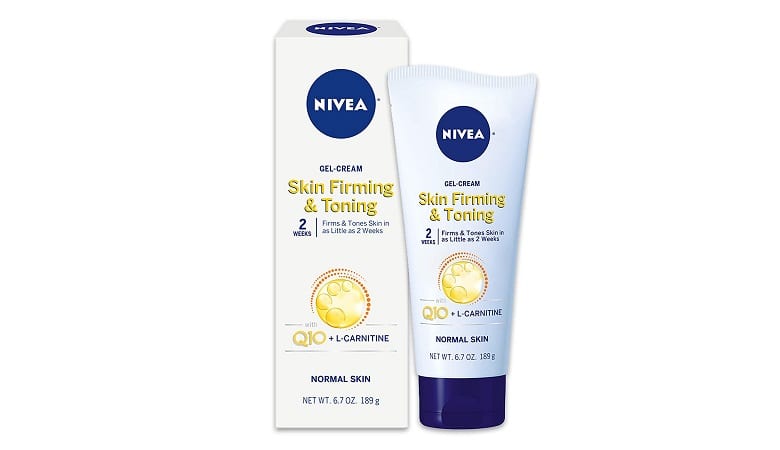 Size: 6.7 oz
Ingredients: Q10, L carnitine, lotus extract, nelumbo nucifera leaf extract, glycerin, and more
Scent: Flowery fragrance
Last but not least, we have Nivea, another brand of good skin firming lotions that we all know well. Cutting right to the chase, Nivea is one of those inexpensive brands that have been nourishing our skin for years, but even so, we had to approach this with a skeptical eye.
Nivea is riding on their inclusion of L-Carnitine pretty hard, here. That and Q10. While these are both important ingredients, it should be noted that there are some other ingredients that are fillers.
It's skin firming lotion that works, but it does have a bit of a greasy feeling when it goes on your skin. That's not exactly something to be ecstatic about.
When you do apply it, it absorbs into your skin fast enough, so you won't be left with a sticky residue on top. It's just that initial application that can feel a bit off-putting.
With all those filler products, you're going to get a less-than-perfect consistency. That's not the end of the world, but you have to keep in mind that Nivea designed this to be used twice per day. Even though you're not paying top dollar here, it's going to burn through your supply quicker than expected.
Because this formula isn't as strong as Olay or Sol De Janeiro, it needs a twice-daily application to really nourish your skin and begin tightening it.
Nivea is dermatologist approved and tested, and while we can definitely bank on that set of credentials, you will feel a noticeable difference compared to the other creams on our list.
As a matter of fact, here's a little challenge: if you planned on getting one of the other four lotions on this list, add Nivea onto your cart. This way, you can get the best of both worlds, feel the differences for yourself, and see what works best for your skin. Nivea has been around for a while for a reason.
Skin Firming Lotion FAQ
Do Skin Firming Lotions Really Work?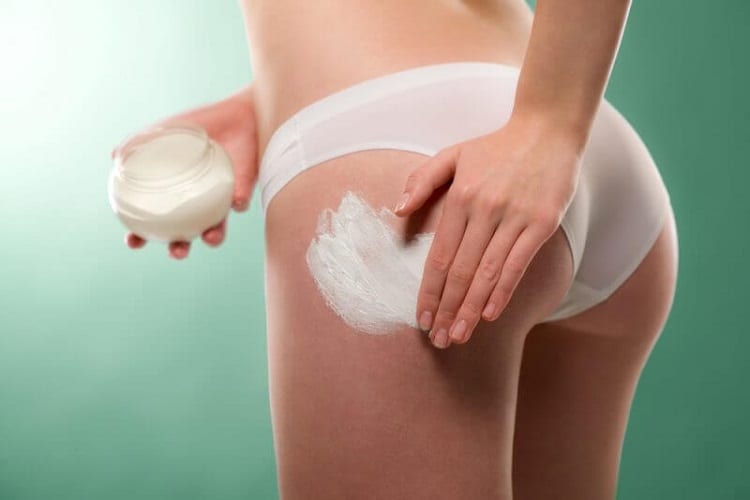 Yes, skin-firming lotions really do work. They lift your skin, smooth out wrinkles and lines, and can make your skin actually feel and behave like it's more supple than it was before.
But you knew that there was a catch to all this, didn't you?
Skin firming lotions aren't meant to be the only thing you do to save your skin from sagging. They contain ingredients – some of which we'll get into in a moment – that do help promote collagen and elastin production in your skin.
However, your skin is going to naturally produce less and less collagen as you age. Even if you incorporate your diet with skin tightening foods and use lotions, the bottom line is that your skin's natural production technique is dwindling.
Skin firming lotions help for short-term results, and if you stick with them, they can have long-lasting results as well. But the second you stop using them, your body isn't getting that boost of collagen and elastin-producing nutrients anymore, and it will be noticeable almost right away.
These are the ingredients in skin firming lotions that commonly help revitalize and lift your skin.
Caffeine
Caffeine is actually a skin-tightening agent, and it's not for the reasons you'd expect. When caffeine makes contact with your skin, your skin absorbs some of it (like it does with anything else).
This immediately constricts blood vessels, and tightens up your skin. This helps with inflammation in the skin regardless of what it's caused by, so it can help tone down bright red skin to even it out.
Retinol
You've heard of this before because it's absolutely everywhere. Retinol is the chemical that forces your body to create more collagen.
Your skin has so many blood vessels in it that it's hard to count, and the thing is retinol actually helps your skin produce new blood cells. They're tiny, but they help circulate blood near the surface of your skin, which has its own benefits.
Peptides
If collagen and elastin are the building blocks of your skin, then consider peptides to be the foundation. Peptides are amino acids, the building blocks of life, except they're strung together in a very specific pattern.
In short, they nourish your skin like nothing else and can actually lift fine lines and wrinkles. We have an entire guide on copper peptide serums in case you're interested enough to learn more.
AHA
If you've ever used skin peels before, you've seen this chemical referenced somewhere on the ingredients bottle. AHA stands for alpha hydroxy acid, which helps to peel away the surface of your skin.
This doesn't sound like it's the best thing for skin firming lotions, but in actuality, it clears the path to allow the nutrients in skin firming lotion to more directly impact your skin.
Hyaluronic Acid
As one of the key ingredients in most skin care serums on the market today, hyaluronic acid is something that already exists in your skin.
It helps bind moisture to your skin, and no matter where you look online, you'll find the same information: hydrated skin is healthy, supple skin.
Apart from hydration, hyaluronic acid is also useful for speeding up healing on the surface of your skin, which is why you'll find it in toners and solutions to be used after a skin peeling.
How do You Firm up Saggy Skin?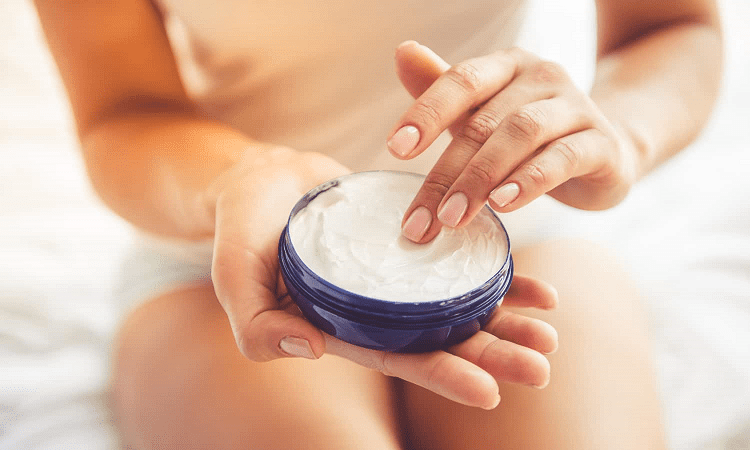 The number one way to firm up sagging skin is actually through surgical procedures. Unfortunately, no medical insurance is going to cover it, and these aren't always outpatient procedures. They can be fairly expensive.
Your most cost-effective method to firm up sagging skin is through firming creams like we've seen on this list, and supplements. You can actually take hyaluronic acid tablets to help your skin from the inside out.
If you experience loose or sagging skin and are overweight, good news – exercise can help diminish the appearance of subcutaneous fat, which is what makes skin appear loose without actually being loose or saggy.
On the flip side, if you have loose skin because you used to be overweight and lose it all, bodybuilding is going to be your best bet. Increasing muscle mass decreases loose skin because it reallocates it.
Last but not least, the best way to stop sagging skin is with preventative measures. That means taking supplements and eating a healthy diet of skin-tightening foods (of which, we have a long list), and routinely exercising. This is the best way to preserve your skin and prevent sagging.
Does Coconut Oil Lighten Skin?
Looking to get lighter skin?
Coconut oil may be your answer. If you're using coconut oil on your skin, you'll be pleased to know that it can actually help boost collagen and elastin production, as well as hydrate your skin to remove the appearance of fine lines and wrinkles.
On top of that, it can even lighten your skin. Because coconut oil acts as a natural sunscreen, it helps prevent UVB rays from penetrating and changing the melanin in your skin.
Coconut oil also makes the tone of your skin appear more even and balanced. Your skin tones will basically blend into one another, which means that you'll appear to have brighter skin and a nice even glow at the same time. It's like an amalgam of additional benefits; soak them in.
Which Oils Promote Collagen?
Essential oils only have their place in modern medicine to a certain degree.
They're not going to cure the sick, but they can help with small tasks such as tightening your skin through collagen production boosts. These six essential oils may be able to help you out.
Carrot Seed Oil: Beta-carotene is seriously beneficial for your skin, but you're only going to get that from full-grown carrots. With carrot seed oil, you're getting a boost of antioxidants that help protect your skin and nourish it as it repairs collagen below the top layer of your skin.
Rosehip Oil: Consisting of fatty acids and anti-inflammatory elements, this one-of-a-kind essential oil is actually fantastic at keeping your skin free from swelling. This promotes collagen, but it also works to protect your skin from harmful UV rays for a short time.
Geranium Oil: This may be one of the most powerful oils out there for your skin. It helps produce collagen, but it also acts as an anti-inflammatory agent. Less inflammation means better, softer skin without puffiness.
Neroli Oil: Vitamin C is the name of the game, but you'll be happy to know that neroli oil also has a wonderfully flowery fragrance that comes with it.
Lemon Oil: Lemon oil is commonly used for brightening or lightening your skin, but yes, it also signals your body to produce more collagen. Vitamin C is the real benefit here, which helps with UV protection just like rosehip oil.
Frankincense Oil: Pure and simple, this helps to generate new cells. It also protects current skin cells from being damaged any further for a short time.
Firming Your Skin One Step at a Time
Firmer, younger looking skin is something that we're all after. Now that you know what skin firming lotion is able to do for you, it's time to take this investment in your skincare and begin preserving your youthful look today.
We have guides on other products that help tighten your skin, such as skin tightening machines, or creams to help with crepey skin if that's the true problem you're facing.
---