The top layer of your skin, the epidermis, is dead. It doesn't matter how much you moisturize: every bit of skin that you can see is technically dead.
Skin peels help to remove the dead skin on top, leaving a small layer of epidermis (for protection), and keeping your skin nice and clear as a result.
Often referred to as chemical peels, these are designed to keep your skin healthy, assist sufferers of dry skin, and remove excess oil at the same time.
If you want the best skin peel for your skin type, look no further – we've got you covered. With each of the five top picks on this list, every skin type and preference has something to cheer for.
Best Skin Peels – Reviews & Buying guide for 2021
Best Overall: Dr. Dennis Universal Daily Peel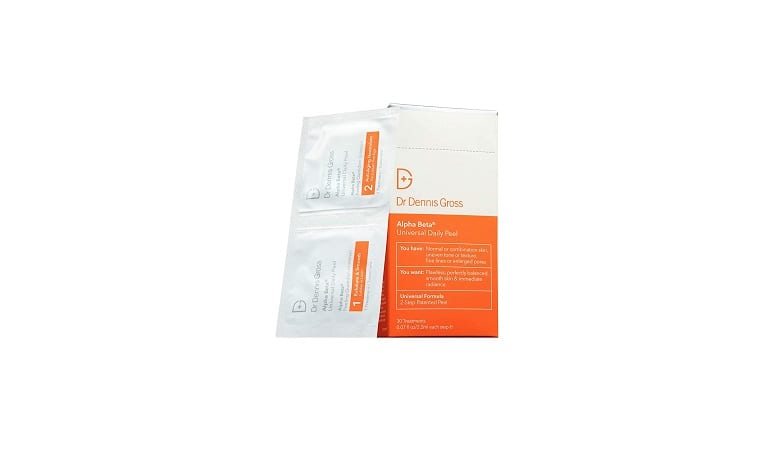 Size: 30 packettes
Type: For all skin types
AHA: Yes, 5%
BHA: Yes, 5%
In our quest to find the best skin peeling products, we ran into a ton of different brands and packettes, formulas and remedies, and above them all the Alpha Beta formula reigned supreme.
We want to point out that skin peels in general are not cheap, but Dr. Dennis Gross managed to make this affordable enough for what you get, so you can still get top-shelf quality without being gatekept by absurd prices.
Containing a five percent balance of AHA and BHA, this works to gently, chemically peel back layers of the skin so that you're getting the results that you want. This blend is unique to Dr. Dennis Gross' Alpha Beta peel, and is included in all thirty packets that you receive.
Let's talk about those thirty packets for a second. This is a daily mix, meaning you aren't limited to once or twice per week. But should you really be doing it that often?
If you have a normal skin type with no sensitivities, then I would say you could use this every day.
However, if you have sensitivities, you might run into a bit of tenderness after a week of using this every single day. You should use this every other day to not only mitigate potential skin damage from overuse, but to extend the use of your peel and save money.
Each packet is separated by a perforation, but keep in mind these packets aren't exactly sturdy. You have to be careful when tearin the packets away from the strip, otherwise you could open two or more and waste some of your packets.
Dr. Dennis Gross expresses that they use a cruelty-free process, and are certified by Dr. Gross himself—a board-certified dermatologist and dermatological surgeon with over twenty-five years of practice—so you know you're getting the best possible, professional skin peel out there.
Runner Up: Cane + Austin Acne Retexture Pad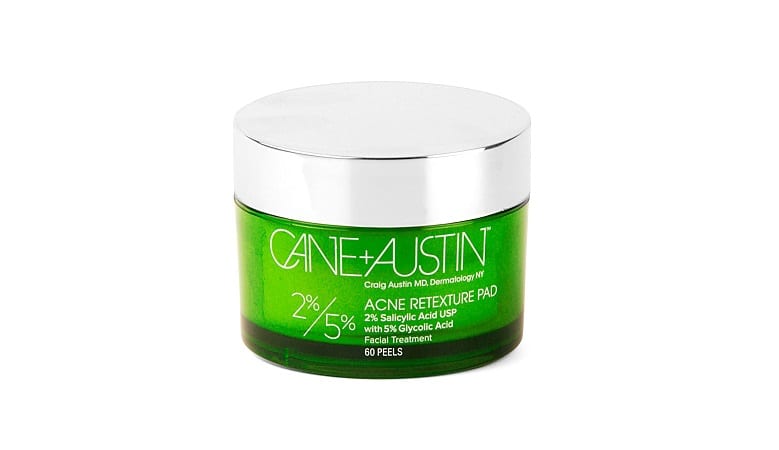 Size: 60 pads
Type: For sensitive skin, acne-prone skin
AHA: No
BHA: No
A dollar a day. That's the average cost, depending on price increases and sales, that it takes for you to use Cane + Austin.
This facial skin peeling treatment is gentle on your skin, and since it's specifically made for sensitive skin types and acne-prone skin types, that's good news.
Gentle enough to use every single day is a serious statement, but it's backed up by science. Cane + Austin uses a 2% salicylic acid USP blend, as well as a 5% glycolic acid blend. Unlike Dr. Dennis Gross, you're not going to get individual packets here.
Instead, you'll have a circular container similar to acne pads, where you just unscrew the cap, remove a pad, and wipe down your skin.
This is good and bad, because if you've ever used acne pads like this before, you know the solution tends to slowly seep out of the pads on top and pool at the bottom.
Unfortunately, that's going to happen here as well. You can remedy this by storing the container upside-down when not in use, then flipping it upright the next day.
This is a slightly aggravating part of using these, but necessary. Otherwise you end up with those seriously saturated pads at the bottom that burn when you use them.
For the formula itself, Cane + Austin goes on similarly to acne pads. It leaves a slight tingling sensation, has a light alcohol scent to it, but it's not safe to leave on your skin. Chemical peels should be washed off per the instructions.
The power here is in removing blackheads and solving whiteheads. The pH balance to your skin is immediately altered (in a good way) when you use Cane + Austin, assisting with teenage acne, acne scarring, and bacne in adults as well. These are truly some of the best skin peels on the market today.
Alternative: Exuviance Performance Peel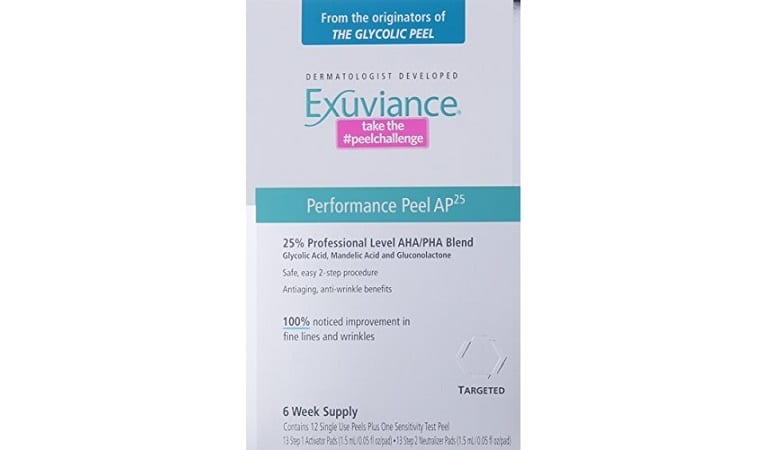 Size: 12 packettes
Type: For use on wrinkled skin, any type
AHA: Yes, 25% blend
BHA: No
Daily skin peels are great, but what happens when they're not enough? When the results don't hit you the way you want them to?
That's when you need Exuviance in your life.
These tend to be the best skin peels for acne scars because of how immediately effective they are. They reduce the appearance of scars, but they can also help with dead skin in hard-to-reach spots on crepey skin as well.
With a 25% blend of AHAs and 25% blend of PHAs, this is a powerful at-home solution. You'll feel tingling the second this touches your skin. Exuviance is intended to be used twice per week, so you're getting a six-week supply in this pack of a dozen packets.
Exuviance is all about results, not about the novelty. That's why they're completely fragrance-free, contain no dyes, and are paraben-free to eliminate that cancer-causing and unnecessary ingredient from the equation/
The thing to remember is that Exuviance is intense. This is technically usable by any skin type, although you will have to exert caution if you have sensitive or acne-prone skin.
The packaging has all the necessary precautions you'll have to take into consideration, of course, but just remember that you're using a high-end chemical peel here.
The goal here is to tighten wrinkled skin and lines. Exuviance claims that 100% of all tested users saw an improvement in their fine lines and wrinkles, and nearly everyone endured a more even skin tone after using Exuviance.
Those are some bold claims to make, but after testing this out for ourselves, we have to give credit where credit is due and agree with their assessment.
Depending on the level of acne scarring, Exuviance can help. For the most part, this will remove blackheads and oil trapped in your skin with ease. You've got nothing to lose.
Alternative: The Ordinary Peeling Solution
Size: 30ml (30 uses)
Type: For all skin types
AHA: Yes, 30%
BHA: Yes, 2%
Normally, you look for AHA and BHA solutions to deal with wrinkling skin. You use a chemical peel to reduce or remove those fine lines, but traditionally, we see an even blend of AHA and BHA.
The Ordinary Peeling Solution challenges that norm, and instead mixes a 30% AHA blend with a mere 2% BHA blend. The result?
The best skin peel for scars that have been plaguing your skin for too long.
We want to address the price right away, because being this cheap, we were expecting some serious trade-offs. The thing is that you're not dealing with a ton of branding, filler products, or anything in between. It's simple, comes in a simple bottle, in a simple package.
But that has some nuances to it. With a lack of filler products comes a lack of comfort while using this.
The Ordinary Peeling Solution is result-based; it's not exactly an experience. You're going to feel light tingling and stinging while using this for sure, and as long as you use it properly, it will stay light.
But that much AHA blend could be painful and leave inflammation if you aren't careful. Because of that imbalance of AHA versus BHA – while it can be good for some skin types – you may not see as clear or concise results in combination skin as you will in sensitive or oily skin.
In our testing and reviewing all the online stories about using The Ordinary Peeling Solution, we found that the few who have issues with this already have hard-to-manage skin.
TOPS might not be the best solution for very niche skin types or issues, but for the general user (as well as our testers), it worked a treat.
Alternative: GRxLabs Glycolic Acid 20% Resurfacing Pads
Size: 50 pads
Type: For all skin types
AHA: No
BHA: No
It's hard to pin down the best skin peels for black skin, because a lot of the same characteristics play out in other skin types. That being said, black skin often requires a different formula to have the same level of effectiveness.
Glycolic acid is one of the best ingredients that you'll see in skin peels, and that's because glycolic acid literally breaks down the bond between your dead skin cells (the outer layer of the epidermis) and the bottom layer.
Stubborn, stuck-on skin that won't come off with simple scrubbing in the shower can be purged with a 20% blend of glycolic acid.
There's no AHA, BHA, or PHA located in this at all; 100% of the "juice" comes from glycolic acid. On the flip side of things, that also means you have to be careful when applying this. It includes antioxidants to help balance out the glycolic acid, but if you leave it on too long, it can still cause problems.
Speaking of antioxidants, those come from green tea and calendula extracts. Additionally, you get a boost of vitamins B5, E, and C, which actually help to fortify your lower layer of the epidermis to prevent sun damage.
Vitamin C is also key to collagen reproduction, which may help boost skin regrowth. You essentially peel away the dead outer layer, and replace what you take with nutrients to boost your skin's next level of production.
What's the catch?
The claims by QRx Labs. They market this as anti-aging resurfacing pads, but that's a very fluffy-sounding claim. Can it help reduce wrinkles and fine lines in the skin?
Yes. Does that mean it's anti-aging?
No. The terminology is a bit gimmicky and takes away from the fact that this will absolutely help with wrinkles, you just need to use this for about sixty days or so to see the real benefits of skin peeling on wrinkles (do a before and after photo sixty days apart and you'll be blown away).
Best Skin Peels FAQ
Are Peels Good for Your Skin?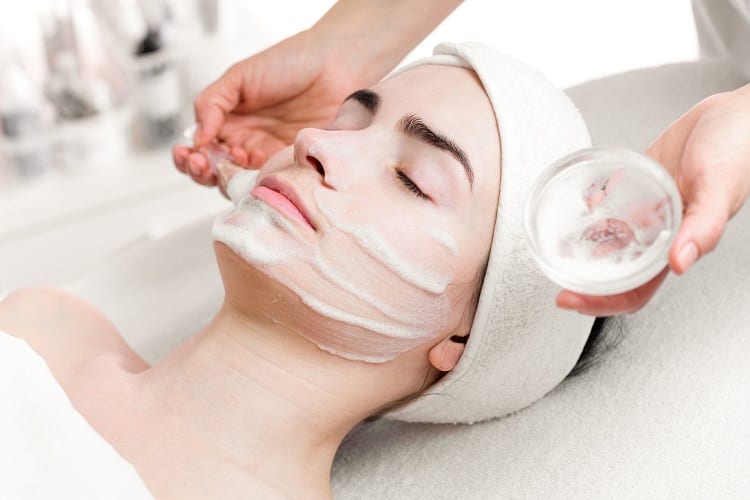 Well, they're not bad for your skin as long as you do them right. You're still dealing with chemicals here, but with diligence and proper usage, you'll be able to use chemical peels time and time again without major damage or long-lasting negative effects.
Chemical peels don't cause long-term damage to your skin. They go on, they come off, and skin peels with it in a safe, effective manner.
Because you're technically removing dead skin (just faster than how it normally sheds), you're not doing anything harmful to your body—it was going to get rid of that skin anyway!
Whether it's the best skin peels for wrinkles, for darker skin, or to get rid of acne scars, they all follow a relatively similar formula and pattern of behavior.
The peel goes on, it rests depending on the instructions, and then it comes off with all that dead skin; it's not actually harming the dermis layer of your skin at all.
Are peels good?
The answer is that they're not bad, although they don't really provide any health benefits to speak of.
It's all simply cosmetic and aesthetic, but with that, you have less wrinkly skin and reduce the chance of snagging or nicking your skin when shaving, so there are some roundabout ways that it can provide better skin safety.
What to Put on Skin After it Peels?
You've tried the best skin peel products, but it's not as simple as using it and being done. You have to take care of your skin post-treatment as well. To do this, follow this simple guide immediately after a skin peel is complete.
Cool Rinse: Take some slightly cool water, and gently splash it on your face. Your skin is going to be tender, so don't go too rough with it. Splash water to remove any additional chemicals. Warm water doesn't help soothe your skin afterwards the same way that cool water does.
Moisturize Your Skin: There's never been a better opportunity for you to moisturize and hydrate your skin. It's exposed; now's the right time. Your moisturization efforts won't be wasted on that top layer of dead skin anymore. Make sure you use a gentle formula so you don't irritate exposed skin.
Protect: SPF 30 sunscreen or above. Even if you're just going outside for five minutes after a skin peel, you need this on your skin. The outermost layer of your skin is normally protecting the bottom layer of skin closest to the dermis, but now, sunscreen will have to fill that role.
That's it – you're ready to go on about your day. The only thing you need to worry about during post-care is not exerting yourself too much and putting stress on your skin.
Avoid strenuous exercise, and do not use exfoliators at all for a few days at the very least. Your skin is going to regrow that layer and push it to the surface, you just have to give it time.
Can You See Results After 1 Peel?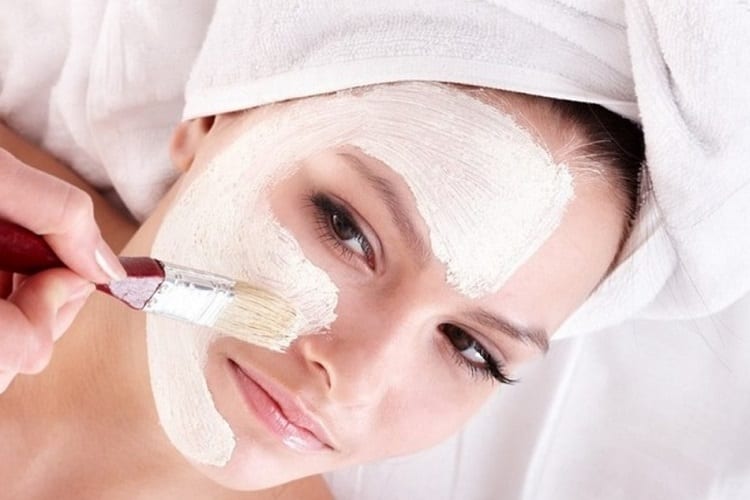 Peely skin comes off with a single application of your skin peel. Yes, you can notice what's missing, and not just by looking on strips or by piling up all the dead skin cells together.
That's one way to compare it, but you can take before and after photos of your skin (in bright light, of course), and actually see a difference.
Is this the difference that you're looking for?
No, it's not. Most skin peels are designed to be used one to two times per week, but as you've seen on this guide, some are designed to be used daily.
Daily peels are going to be harder to notice, which is why that before and after photo idea is something you should go with. After thirty days of using a daily peel, you'll be able to see a massive change in the overall appearance and natural glow of your skin.
If you're using once-weekly or twice-weekly treatments, they can be a little more intense and have higher concentrations of chemicals. This basically means that once you're done, you'll be able to notice a considerable difference in the appearance of your skin.
Last but not least, it's important to understand that as your skin continues to create more cells, more are rising to the surface. It can take some time to get into the rhythm necessary to see results, but they will become present within a few weeks of use.
Do Chemical Peels Age Your Skin?
Skin peeling products in general are not going to age your skin faster. In fact, nothing really can apart from sunlight and natural damage. Chemical peels aren't going to age your skin.
Your epidermis is the outermost layer of your skin, and most of it is dead. Any part that you can see right now is technically dead. So why do we use chemical peels to pull off some of the dead skin?
Because the further down you go, the closer it is to the pink fleshy parts of your dermis, and that's where you have more nerve endings.
So we can't just remove all visible dead skin. Your skin is constantly shedding cells and creating new ones. The newer ones are in the lower area of the dermis and work slowly upwards.
Your body is going to keep producing collagen, elastin, and other parts of your skin. Over time, it becomes less efficient at doing this, which is why we become thin-skinned when we age.
I'm explaining all of this to you now so you understand the natural process, and understand that nothing you add to your skin in these products is going to age it faster.
The only way to actually age your skin (in terms of appearance) is through serious damage. Staying out in the sun too long, being in a tanning bed too long, not wearing sunscreen, and leaving dangerous chemicals on your skin for extended periods of time.
If you use a chemical peel, you are not going to age your skin faster. These products are designed with user safety in mind, so you aren't even going to come close to permanently damaging or aging your skin by using them. You have nothing to worry about.
What About Laser Treatments?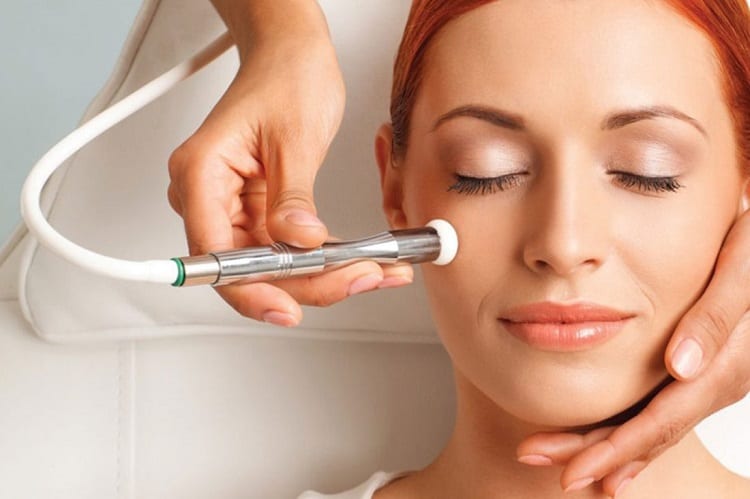 Laser treatments are getting more sophisticated, but they're still not where they need to be. As of right now, chemical peels are the best option for your skin. Done safely, there's no lasting negative impact.
Chemical peels provide less impact, and they're completely up to your discretion. You're not going to get the same level of control with a laser treatment for your skin. If you use chemical treatments, you can do it consistently for smoother skin from now on.
Peeling Back One Layer at a Time
Your skin peels off anyway (that's what some of the dust in your house is), and it's always producing more, so helping it along with a chemical peel can be helpful for your skin as a whole.
Using chemical peels responsibly can help make your skin appear more vibrant, and actually stimulate skin growth from your dermis layer.
Now you know the best skin peels, just be sure to use them as directed, and you'll have that glorious glow you've always wanted.
---