Toners do more for your skin than people realize, and in your quest (and ours) to get better, healthier skin, we should all be including toner in our daily routine.
Commonly thought of as just an addition to cosmetics/makeup, toner is actually beneficial for your skin.
In fact, it could be what prevents your oily skin from producing so much sebum. Toners come with minerals that affect your skin's pH levels, and while that would normally be a cause for concern, this is a good thing.
Your skin could be producing all of this extra oil due to a pH imbalance, and if that's the case, daily facial toner could set things straight. We've found the best toners on the market to help combat oily skin, so let's take a look.
Best Toner For Oily Skin – Reviews & Buying guide for 2021
Best Overall: Thayers Alcohol-Free Facial Mist Toner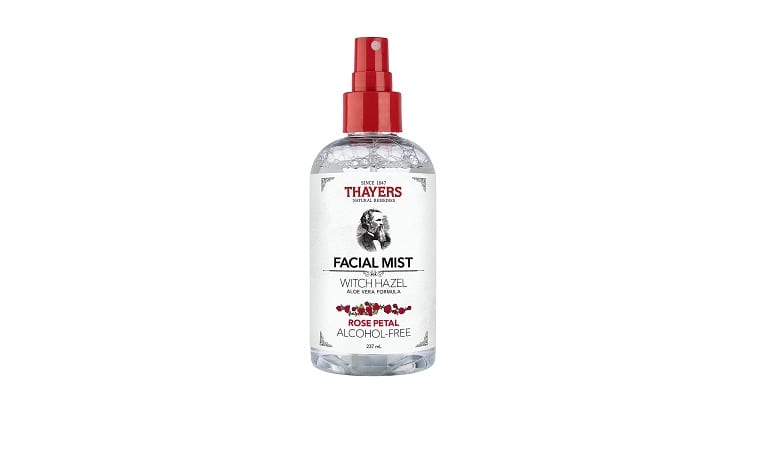 Size: 8 oz
Scent: Flowery/Fragrant
Ingredients: Purified water, organic witch hazel ext blend, rosewater, filet of aloe vera, and more
Thayers provides the best toner for oily acne prone skin thanks to its proprietary witch hazel extraction. What makes it proprietary?
Well, they're able to extract up to 195% more from each individual plant than others, so they get stronger, more potent witch hazel with every extraction.
The magic in witch hazel is that it helps to tighten up your pores after cleansing them, so you're not just cleaning your skin with toner, but you're actually making it harder for more oil to pour out and makes your face feel slick and greasy.
Thayers won our spot for the best toner for oily skin and large pores, but they're also a solution that's as close to nature as you can get. Oily skin doesn't need additional chemicals mucking it up; you're already dealing with enough as it is.
Witch hazel is used as a natural antibiotic spray (commonly used after birth for postnatal care for the mother), because the natural ingredients don't come with any real side effects. In fact, the blend of witch hazel, aloe vera, and rosewater all make a pleasant feeling that's directly sourced from nature.
Oily skin can be caused by pH imbalances, and this blend is designed to help restore your face's natural pH balance back to an even state. Constant use of this toner could actually help your skin in the long haul, and keep things clearer and less oily from now on.
Runner Up: The Ordinary Glycolic Acid Toning Solution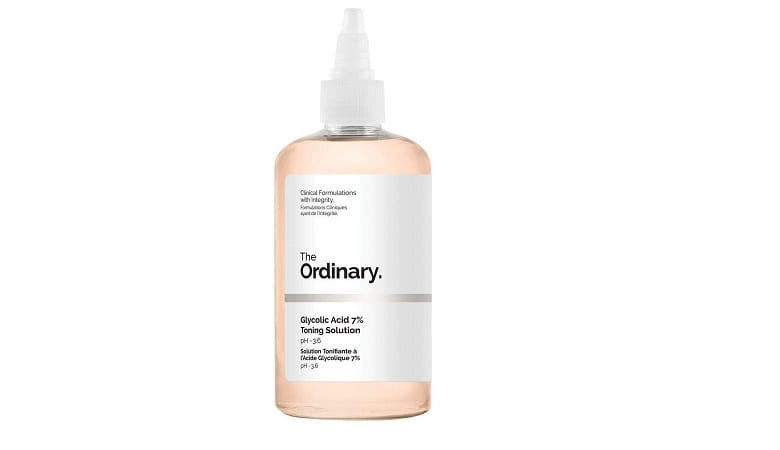 Size: 240 ml
Scent: Fragrance free
Ingredients: Glycolic acid, filler ingredients
Who ever said that being ordinary had to be a bad thing?
The Ordinary brand is all about keeping things concise and inexpensive, so they don't pile a bunch of marketing and unnecessary branding on their labels and boxes. In fact, it's quite plain.
They take a different road though, which is what makes this a good toner for oily skin. This is actually a 7% glycolic acid solution, and we normally see glycolic acid in skin peel treatments.
This tones your skin by removing dead skin and excess sebum, and is a little stronger than most toners because it's specifically designed to combat oily skin.
Price-wise, Ordinary makes this toner extremely affordable. You get a little over eight fluid ounces at a cheap price that gives you room for the rest of your cosmetic budget.
So why does Ordinary stick out so much when it looks like nothing special?
It's because the formula is designed to clean oily pores, but also shrink them in the process. To actually combat oily skin effectively, you need to be able to shrink those pores and limit the amount of sebum that escapes from them. Ordinary is that difference.
Is it the best toner for oily skin? It's definitely up there, but the completely different formula may react to your skin differently than it would to someone else, so be sure to keep that in mind while you're trying this out.
Alternative: Pixi Glow Tonic with Aloe Vera and Ginseng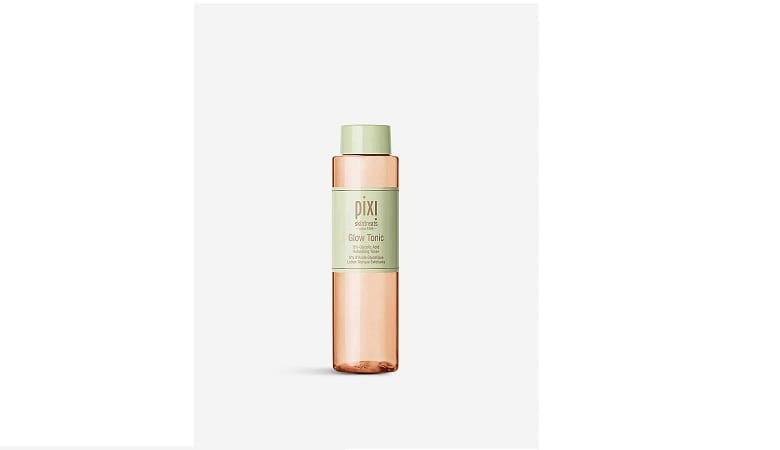 Size: 8 oz
Scent: Gentle Flowery Scent
Ingredients: Aloe vera, ginseng, filler ingredients, and more
You want the best toner for acne oily skin, so you need to know one thing: antioxidants are your best friend. Treat excess oil on your face like bacteria, and imagine antioxidants are antibacterial fighters that remove it.That's essentially what antioxidants do for your skin.
Ginseng is half of the reason that this is the best toner for oily combination skin. Ginseng naturally contains antioxidants, but also vitamins and minerals that your skin so desperately needs.
The other half of the puzzle is the inclusion of aloe vera, which naturally cleanses and heals your skin.
Wrap the two of those up into a light glycolic acid solution, and you've got a force to be reckoned with for your face. So what's the catch with Pixi Glow?
It's pricey compared to some other toners. Now, you came into this knowing what you were going to spend on toner, so you can definitely justify the cost, but for only a little two ounce boost compared to Ordinary and at nearly double the cost, budgeting is certainly something you need to take into account.
On one hand, this leaves your dry skin feeling nourished and helps clean up excess sebum on oily skin. On the other hand, it's not a smooth, absorptive solution: it feels slightly sticky on your face.
That feeling can be uncomfortable until you get used to it, or you can just wash the toner off after it's settled for a short while. If you only have a little bit of time in the mornings, consider bringing make-up cleaning wipes with you to remove excess toner.
Alternative: Paula's Choice Pore-Reducing Toner
Size: 6.4 fl oz
Scent: Light Clean Smell
Ingredients: Butylene glycol, niacinamide, adenosine, anthemis nobilis flower extract, oleth-10, and more
Paula's Choice comes in as a mid-tier and medium-price difference between some of the other toners we've seen. There's a good blend of natural minerals here, but some chemical elements as well that separate them from Thayers for sure.
However, many hail Paula's Choice as the best toner for sensitive skin despite having those chemical additives. There's a delicate balance here when it comes to glycol and niacinamide, which can both help to tighten your pores after removing excess oil.
While we wouldn't say that Paula's Choice is the best hydrating toner for oily skin, it will surely get rid of that excess sebum, turning it from oil into a solid dirt that can be easily wiped away from your skin without abrasions or irritation. Dry, oily; whatever skin type you have, this is going to work to help your skin.
That being said, it's not the most hydrating, so you should absolutely have a facial moisturizer in your daily skincare regimen.
The difficult balance here is that you're dealing with a pore-reducing toner that dries you out a bit, so getting that moisturizer to actually penetrate your skin is going to be a little more difficult.
Paula's Choice could still be your choice, though; there are plenty of benefits here that anyone can get behind. With powerful antioxidants, skin-nourishing vitamins, and the ability to watch the oil in your skin basically crystallize and be removed with ease is all pretty powerful.
Alternative: Glytone Acne Clearing Toner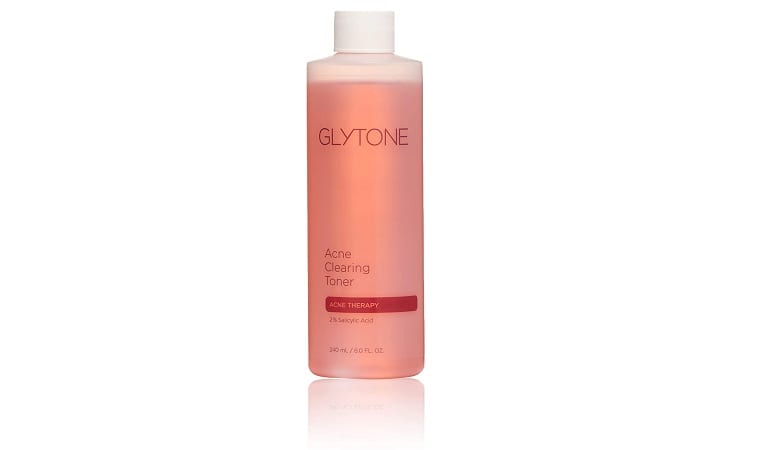 Size: 8 oz
Scent: Flowery Scent
Ingredients: Water, salicylic acid, parfum, benzalkonium chloride, and some inactive ingredients
Do you know what sucks about comedogenic toners? They're ironic. The whole point of getting a toner is to cleanse your skin and leave it fresh and dirt-free, which is exactly what Glytone promises with their non-comedogenic formula.
This good face toner for oily skin comes in a lineup of their other cosmetic products, except this has a heavy emphasis on being as clear and containing as few ingredients as possible.
Glytone isn't the number one brand when it comes to toners for oily skin, but they know their way around.
WIth a combination of salicylic acid and benzalkonium chloride, you get a mixture that helps remove dirt from the skin, and sebum straight out of your pores. The only catch here is that Glytone doesn't have that tingly feeling that many of us are used to with facial toners.
That's good and bad. There's no sensual indicator that it's working, and that may be because it's slightly less effective than the others mentioned on this list. However, that's anecdotal as best.
Glytone is proven to help reduce dirt on your face, and shrink your pores for hours on end to reduce the amount of oil rising to the skin's surface.
The coloration in Glytone can be slightly abrasive to sensitive skin types, which is why we recommend sensitive skin types to try this as a preliminary toner, but go into it understanding that the dyes could irritate your skin more than help it.
Glytone is a good choice for all other skin types without any known issues, so compared to every other toner on this list, we're just dealing with a few more "what if's" from Glytone.
Toner for Oily Skin FAQ
Why is Toner Good for Oily Skin?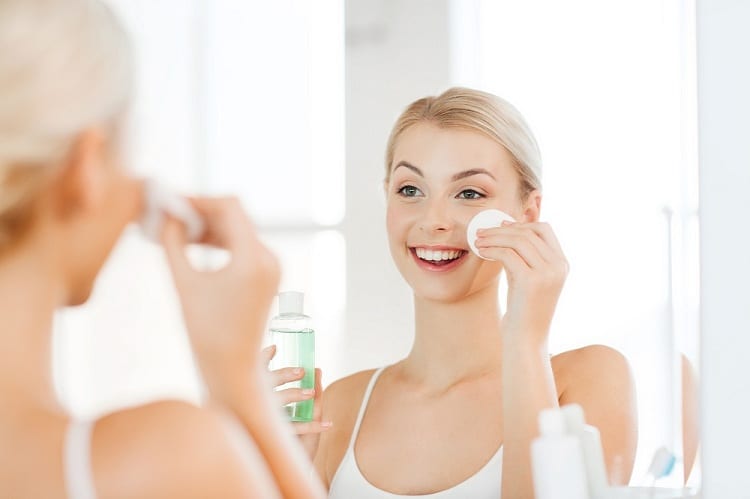 Toner helps control oil production. Apart from that, there are some additional benefits that directly affect your skin. Toner's aren't just placebo—this is what they can do for you.
Tighten Pores: Your pores may never become smaller permanently, but you can shrink them temporarily (on a daily recurring basis) with toner. This helps to keep oil production at an all-time low, and signal to your skin that you don't need to be producing this much oil in the first place. That helps all around.
Restoration of pH Levels: pH level are basically acidity levels located in your skin (and other regions of the body). You have a pH balance on a scale from 0 to 14, and ideally, you'll stay at a good balance. The problem with oily skin is that it can throw your skin horribly out of whack. Toners help restore the balance, and possibly without creating excess oil that covers your face. Pro tip: avoid alkaline soaps to prevent this from happening in the first place.
Moisturization: Toners aren't just good for removing dirt from your skin, but for replacing that same area with hydrating, nourishing minerals and nutrients for your skin. Toner acts like a deeper moisturizer, because it locks in that hydration and then tightens the pores behind it like a shield. In some instances and depending on the severity of your oily skin, this could be better than facial lotions/moisturizers.
Environmental Shield: The oily on your skin acts like a shield, but it's greasy and can lead to other issues. By washing it away with a toner, you're replacing that shield and still protecting your skin, just with the layer of toner that's applied. Toner is meant to be left on the skin after application.
Ingrown Management: This isn't every oily skin type, but a lot of us have more issues with ingrown hairs than your average Joe. It's all related. Thankfully, by restoring pH levels in the skin and incorporating glycolic acid, your skin is primed for hair growth and it doesn't get caught in an ingrown state.
Overall, toners help to clean your skin, prevent ingrown hairs, restore pH balance, protect against UV rays (very lightly) and environmental harm, and it even moisturizes your face. If you're going to use any cosmetics in your arsenal, let it be a toner for oily skin.
How Can I Control my Oily Skin?
Oily skin is something that nobody wants to be born with, but unfortunately, it's a very prominent issue for a lot of people. Oily skin can be controlled with a few choice methods.
Aloe Vera: Because of the natural antioxidant nature of aloe vera (usually when it's direct sourced from a plant), it helps negate high pH imbalances in the skin. This can help signal to your skin that it doesn't need to spend so much time producing oil.
Honey: Honey is also a natural way to control oily skin. It can be applied in a variety of ways and included in face masks, as well as moisturizers. Honey is extremely effective at hydrating your skin, which could negate some of that excess oil.
Skin Peels: Skin peels are common for people with oily skin. These chemical peels can be done at home, and help remove excess sebum, blackheads, and help treat acne that's directly caused by excess oil in the skin.
Cosmetic Clay: Similar to skin peels and charcoal masks, cosmetic clay helps remove oil from the surface of the skin. This isn't a deep way to deal with it, but it works as a remedy.
Diet Control: Find out what foods in your diet are contributing to oily skin. Dairy is a big culprit when it comes to oily skin, as well as sugar, fried foods, overly salty foods (pay attention to sodium in MRE foods!), and alcohol.
Exercise: As long as you're rinsing off right after, exercise can help pull oil that's sitting just below the surface of the skin, and expel it sooner. The result is evenly-oiled skin that isn't too greasy, just be sure that you shower with skin-safe products right after a workout.
Does Oily Skin Age Better?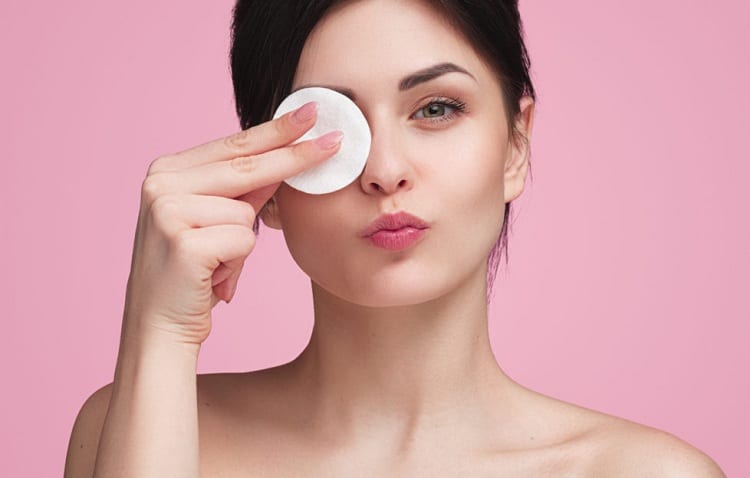 There are some truths to this. Based on the evidence presented, oily skin doesn't necessarily age better, it just ages differently. Similar fifty-year-old skin that is not oily will still show the same level of wear and tear, just differently. Let's go over a few pros and cons behind it now.
Less Sagging: Oily skin tends to be firmer for longer. That's because your skin is producing oils both inside and outside of your epidermis, meaning it preserves your skin and keeps it tight, which results in less sagging as time goes on. There are some cases where oily skin types actually don't notice this, but that can also be chalked up to other problems like sun damage and environmental damage.
Better UV Protection: Skin's mortal enemy is the sun. Ironically, we need our skin to absorb vitamin D from UV rays, but not to an excessive extent. UV damage over time can lead to sagging skin, crepey skin, and even cancer. With a layer of oil on the top of our epidermis, we're actually less prone to receiving sun damage and therefore enhancing our UV protection effortlessly.
Crow's Feet: This is something that you can't avoid no matter what skin type you have. Even oily skin types can get this, so this isn't really an indicative trait of oily skin, dry skin, or any type at all.
Preventing Hyperpigmentation: Hyperpigmentation can change specific patches or small areas of your skin and change the pigmentation forever. Oily skin prevents external damage from forcing hyperpigmentation to take place.
Larger Pores: Correlation is not causation, but commonly, you will find that a lot of oily skin types also have larger pores than most. This can lead to having acne-prone skin, and acts as a source of all that extra sebum production. On top of that, larger pores are more noticeable, so you may actually appear older than you are for quite some time.
Is Oily Skin Healthy?
Well, it depends on what you're talking about. It has its perks and its downsides, though mostly, it actually helps you out more than it hurts you.
Oily skin can tarnish our self-confidence, and it has negative self-image issues, but it can be treated (which is the beauty of it). These toners help out with the reasons that we don't like our own oily skin, but it has some surprising benefits.
Fewer Wrinkles: It is observed that those with oily skin have better preserved skin, which means that wrinkles happen less often. As you age, your skin is noticeably younger looking than it actually may be. This is because the oily in your skin actually blocks harmful UV rays and environmental damage, resulting in fewer wrinkles and overall smoother, softer-looking skin.
Protective Coating: It's not the most endearing way to think about it, but the oil on your skin is like a slick coating that actually protects your skin. It's not there to make you uncomfortable; it just does because of our societal norms. Oily skin actually tends to be thicker, so you can maintain an excellent glow in your skin for more years than most. Thicker skin is harder to wrinkle (in theory), so even when you encounter environmental damage that could permanently alter your skin, you have this going for you.
Lower Lines: Hold on, now. It isn't all sunshine and rainbows. With oily skin, one of the negative aspects is that while your forehead may have less wrinkles and lines, the lower half of your face may actually have more prominent lines. Not more lines; they're just more visible and noticeable than others.
Bacteria: That extra slick coating we talked about could also spell certain disaster for acne. Oily skin means clogged pores, excess sebum, and potential bacteria that harbos in the oils on your face after they have been excreted. You have a slightly higher risk for a skin infection with oily skin, but keep in mind the increased risk isn't something that most people have to worry about.
Combating Oily Skin with Cosmetics
Oily skin is a pain to deal with (and that's putting it lightly). Toners can help if you apply them every day, and steadily over time, you can see corrections in your skin's pH balance so it will stop producing so much extra oil.
Your skin sends signals requiring additional sebum production, so quell those receptors by giving your skin what it needs in a high quality toner for oily skin. It could be the fix for that oily skin that you've been looking for.
---